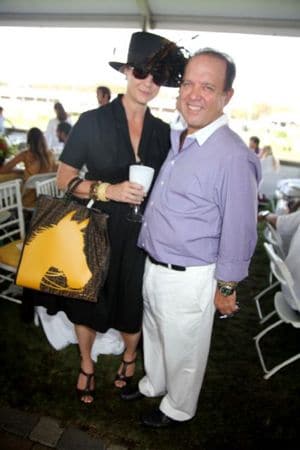 With jaw locked firmly in place, we made way to grand prix day at the thirty sixth annual Hampton Classic in Bridgehampton. The high tone horsey event sadly signals the end of another near perfect summer season at camp Hamptons. The Classic was abbreviated by three days due to Hurricane Irene's untimely visit last weekend.
Upon arrival, we clocked Today Show's talking head Matt Lauer arriving at the VIP tent with wife in tow. We made our grand entrance and said a quick hello to Daddy Warbucks  Mayor Mike Bloomberg whose daughter Georgina is an equestrian star and regular participant (she could not compete this year because of an operation, which temporarily left her in crutches.) His honor told our photographer Steve Sands, that he flew his own copter in, in spite of strong head winds.
Walking the L shaped VIP tent, we passed table after table of corporate muckety mucks chowing down on lobster salad, filet mignon and swilling Roederer Cuvee Cristal. Feeling a bit the orphan, we found welcome sustenance in the super VIP FTI Consulting suite where we glimpsed the ubiquitous James Lipton and hockey legend Rod Gilbert.
Bionic horseman McLain Ward took home the $250000 FTI Grand Prix award for a record breaking sixth time aboard 'wunder' horse Antares. So ends my summer and on to fashion week follies.
Photos continue next page.