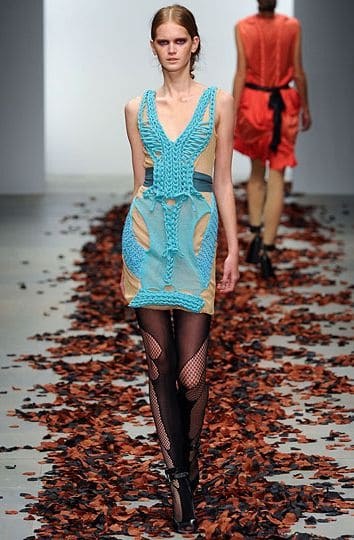 London Fashion Week kicked off with the Mayor of London, Boris Johnson, declaring London as a leading Fashion Capital totalling 21 billion per annum and revealing schemes to take fashion & creativity into the next Olympic year. Fine style speak from London's Lord Mayor just don't ask him what label he is wearing; he'll claim not to know! Alongside Boris was the chairman of the British Fashion Council, Harold Tillman, plus British Fashion Council Ambassadors Laura Bailey and Erin O'Connor.
Champagne and speeches done and dusted and it was off with the shows; as always Paul Costello opened with a Parisian sleek meets 60's chic feel in an array of pale pastels and graphic monotones. All easy-to-wear, uncomplicated pieces that will no doubt keep Paul's core customer base happy.
Bora Aksu remained true to his design ethos with a multitude of handcrafted techniques. For this season, however, he was in a romantic mood in the form of frills, tucks, ribbons and lace. Sheer and lingerie look pieces add a touch of seduction to the proceedings while the pale colour palette and styling hinted at the Edwardian photograph that inspired the collection.
Article continues onto page 3
Day 2 at London Fashion Freak: Daks, Ashish, House of Holland & Jonathan Saunders