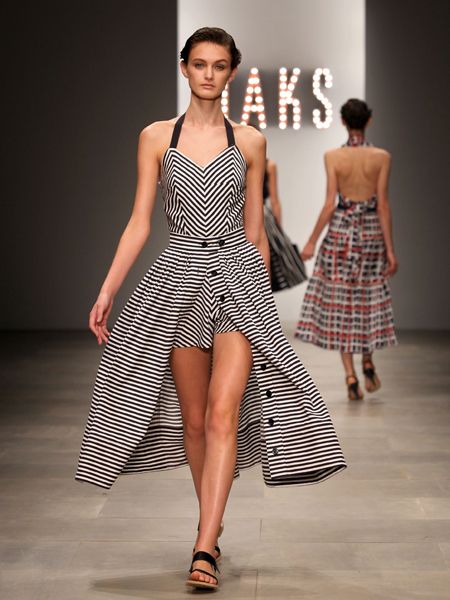 A 9am show after a long after-party night is a tough call but you wouldn't know it as the Daks presentation played to a full bright-eyed and bushy-tailed crowd. Outside the rain may have been pouring but thanks to Daks chief designer Sheila McKain-Waid we were taken on a costal trip of seaside glamour; crisp white halter-necks and fresh shift dresses while palazzo pants and button-down skirts added retro appeal. Meanwhile exposed zips, hoodies and sports luxe brought the classic label bang up-to-date and in keeping with the unpredictable British weather there were plenty of lightweight trench coats and rain jackets ticking the practicality box as well.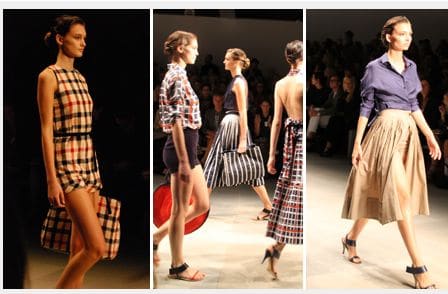 Next up Ashish offered an extreme contrast to all the clean-cut elegance in classic colours. Think Vincent Van Gogh meets Henri Matisse in a sequined acid haze and you'll begin to get the picture. Head-to-toe florals were the order of the day from floor-length maxi dresses to baggy shorts and vest combos. Happy to do his own thing the Ashish show provided a vibrant display of in-your-face colour while pastels seem to be taking centre stage elsewhere.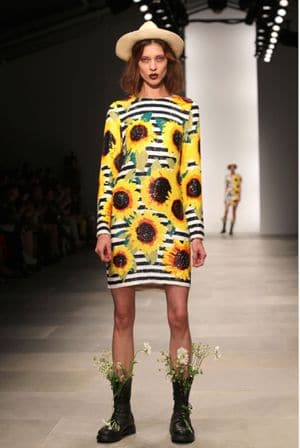 More is more; it may have been a day of grown-up elegance at Daks, Jasper Conran and Jaeger but for the likes of Ashish and the House of Holland it was time to get noticed in a loud kind of way. A firm favourite with London's in-crowd; the Geldof girls, Eliza Doolittle, Marina Diamandis, Jaime Winstone et al the House of Holland show is a sure fire hit to get the paps in a frenzy. Henry's background is in print and styling and this you could tell with his leopard print covered catwalk. Moving on to the show and an array of pretty pastel punks emerged before us – braces, full-crotch zips, snake trimmed collars, string vests and tartan – hardly the attire for ladies what lunch but never-the-less lots of fun.
LFW: Day 1: Style Speak from London's Lord Mayor, Paul Costello, Bora Aksu, Jean-Pierre Braganza and PPQ»