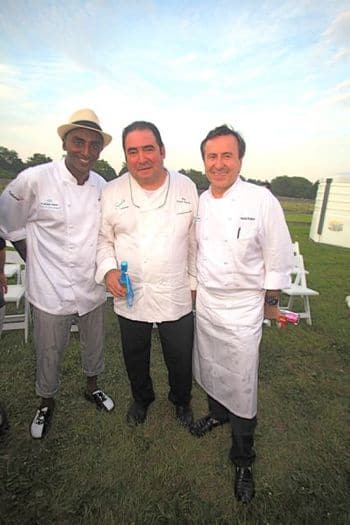 At the 2011 "CHEFS & CHAMPAIGNE" annual event at the Wolffer winery this past weekend just one day after a NYC record 104 Degrees. In the Hamptons- the food was even hotter.
RICHARD GERE and Gossip Girls KELLY RUTHERFORD adding to the glamour, joined approximately 800 other guests in chomping down delectable treats from notable chefs such as DANIEL BOULUD, MARCUS SAMUELSSON and KERRY HEFFERNAN. "Its not just another food event, ITS JAMES BEARD" noted star chef MARK FORGIONE who runs a NYC restaurant bearing his name.
They were all gathered to honor FOOD NETWORK star chef EMERIL LAGASSE– that's EMERIL to ma and you- for his "dedication to educational programs that help young people discover the wonders of the culinary arts." Though EMERIL is known as a NEW ORLEAN'S chef, he actually comes from Massachusetts and operates 13 restaurants in diverse states such as Florida and LasVegas.. "His larger than life personality is only overpowered by his larger than life heart," noted BEARD FOUNDATION President SUSAN UNGARO.