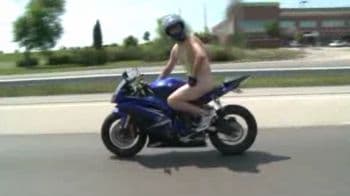 Gentlemen, isn't it time you looked into your very own 'mankini' too?
Kids, there's fashion forward and then there is fashion faux pas, that said, I'll leave it up to you to decide which camp one motorcylist, Jacob Southard, who is made it his calling to dress in a lycra mankini fits in.
kplr: ST. LOUIS, MO (KTVI – FOX2now.com)— As we lost count of how many consecutive days the temperature has eclipsed 100, at least one St. Louis area man has taken "self cooling" to a new level.  Many motorcyclists talk about their love of the wind blowing through their hair.  It seems Jacob Southard prefers the wind blowing through almost everything.  He's been turning heads on Interstate 70, riding his motorcycle while wearing nothing but a "mankini" like the one from the "Borat" movie.
Asked what in the world he's doing, Southard, clad in nothing but a neon green singlet that covers his crotch and little else, replies with a laugh.
"Beatin' the heat!" he says with a grin.
Beating the heat or creating some heat? Kids, after watching the video over and over I have to confess I'm half inspired to look for an unused fuchsia colored satin bed-sheet my mother once sent me, poke 5 holes in it, (for my legs, arms and head of course) and then dazzle it up with some sizzling scissor work, a dash of suntan oil and then bravely strap up for my morning run. The problem is I'm wondering what I'm going to tell my mom when they inevitably arrest me. The fashion police that is…
Bless your soul Jacob, just watch out for them splotchy sun tan marks. Hawt bixch…