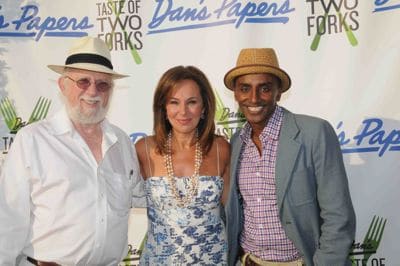 Gourmets, gourmands and a few gastronomical philistines gathered under a huge tent in Bridgehampton to chow down on the culinary creations of forty top north and south fork restaurants. The event was well lubricated by vino from twenty Long Island wineries.The crowd was huge and ravenous. A feeding frenzy seemed irrationally focused on Chef Laurent Tourondel's LT Burger. I snobbishly opted for more sophisticated offerings like the Frisky Oyster's sublime take on oysters Rockefeller (my fave) and Citarella's divine poached salmon and filet mignon. For dessert I tucked into Sarabeth Levine's delectable pastries finally cleansing my weary palate with a rhubarb ice pop from Gilt City.
The Taste was hosted by affable Chef Marcus Samuelsson whose brand continues to grow with Harlem's Red Rooster and the Hampton's Blue Parrot. His philosophy of locavore sustainability and culinary diversity was well represented at the event. The evening benefitd Long Island food pantries through Have a Heart Community Trust.
Other notables in attendance included Fox 5's Rosanna Scotto and foodie family, Soprano alumna Aida Turturro, candy girl Dylan Lauren, "Royal Pains" Mark Feurstein, assorted  over-exposed "Real Housewives", and curmudgeonly founder and namesake Dan Rattiner.