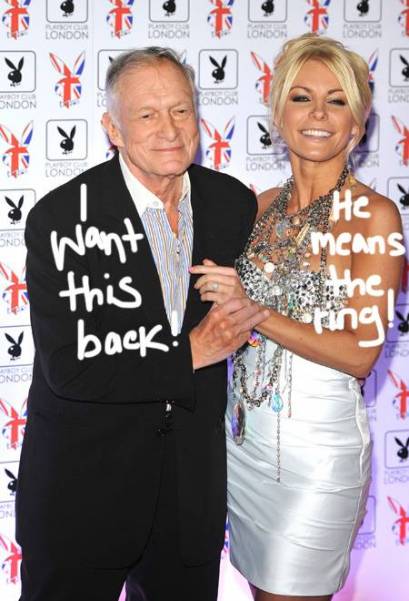 From one media whore to another: Until death to us part.
The foothills of Hollywood have been usurped with the revelation that Playboy icon and founder Hugh Hefner and his 25 year old whore bride to be, Crystal Harris have suddenly called off their impending wedding.
According to press reports it has been reported that Ms Harris has been having second thoughts, chagrined by stories of Mr Hefner's appetite for playboy bunnies and her own inertia that she was indeed getting set to marry a man well into his 80's.
eonline: Crystal Harris, who just yesterday got her jilting on and confirmed that she had called off her wedding to Hugh Hefner with less than a week to go before her big day, chatted with our own Ryan Seacrest just this morning, reiterating that their decision to call it quits was a mutual one, tackling rumors that there was a third party involved in their split (hi, Dr. Phil's son!) and weighing in on whether the perpetual bachelor will ever make it down the aisle.
Amicable split? Do people really amicably split with 5 days prior to their impending wedding after invitations and huge sums of money have been spent? But then again one can suppose this is Hollywood pr dress rehearsal where the weather is always north of 85 like Hugh's age.
Then of course there's the matter with involving a supposed affair with Dr Phil's son- Jordan McGraw:
dailymail.co.uk: The pair were reportedly spotted together at the Chateau Marmont back in March this year. McGraw was apparently seen 'kissing the blonde's shoulder and trying to hold her hand', according to Life & Style magazine.
But Crystal's representatives say the claims are completely false.
'That is absolutely not true,' Harris' manager Michael Blakely said. 'It's a complete fabrication'
Blakely said that the relationship's dissolution was an mutual decision.
Ultimately one can only wonder what  the real dynamics at play are and why this story even resonates had it not been for the fact that the starring characters involve an octogenerian looking for his last hurrah into the sunset and that of a young woman who suddenly saw past the shiny lights and confetti.
THIS YEAR FOR XMAS HUGH HEFNER WANTS YOU TO KNOW HE ENDED UP WITH A 24 YEAR OLD BRIDE TO BE.