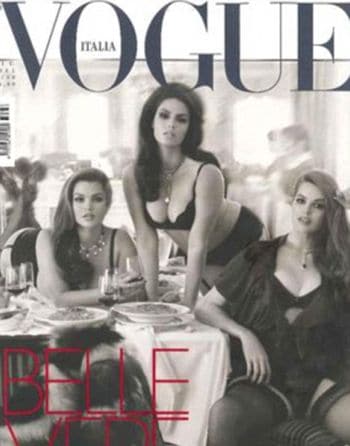 Italy's Vogue Editor in Chief Franca Sozzani is fighting an uphill battle…
dailymail.co.uk: It's not unusual for fashion magazines to employ the odd plus-size model for an editorial spread.
But Vogue Italia went one step further, featuring not one but three curvy beauties on their July issue cover.
The move comes as editor Franca Sozzani continues to campaign against pro-anorexia websites.
Last time this author checked- most female fashion sites seemed to be espousing almost emaciated looking females. In fact it seems to be the prevailing dogma, especially when the fashion industry pays lip service to demands for depictions of healthier looking girls. Could it be an issue of sound politically correct, but don't practice what you preach?
And rather than hide their figures in floaty dresses, or cut them off at the waist, Sozzani proudly features Tara Lynn, Candice Huffine and Robyn Lawley in their underwear.
The editor has been busy collecting signatures for a petition to shut down websites encouraging eating disorders.
Well here's one editor who's actually being proactive. Could you imagine America's Anna Wintour clambering to collect petitions? In fact a cursory look at Vogue America's current edition will find the lead image of a rather lean model on a tennis court. Let's hope one doesn't ask her to get up and have a game of tennis- she'd probably feint on the spot. But at least she looks good right?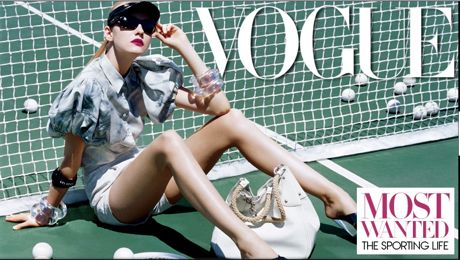 She said: 'Fashion has been always blamed as one of the culprits of anorexia, and our commitment is the proof that fashion is ready to get on the frontline and struggle against the disorder.'
Sozzani has also promised to feature more plus-sized models in the future.
She said: 'Why should these women slim down?
'Many of the women who have a few extra kilos are especially beautiful and also more feminine.'
Indeed- some plus sized women are very beautiful. It's just a question of showing us how beautiful…
(for more risque images from VOGUE ITALIA go to the next page).