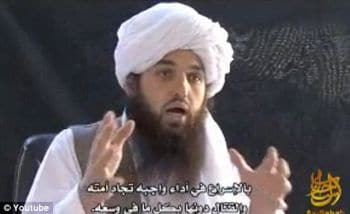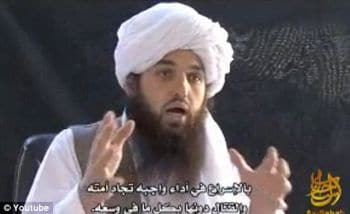 The new must revolution courtesy of US born Al- Qaeda spokesman- Adam Gadahn.
Calling all American Muslims- Adam Gadahn wants you to go out and buy guns and carry out random, lone wolf attacks. Should you oblige him?
dailymail.co.uk: The video, called 'Do Not Rely on Others, Take the Task Upon Yourself', was produced by al Qaeda's as Sahab media team and shows 32-year-old Gadahn speaking alongside old clips of Ayman al-Zawahiri and Osama Bin laden.
The proposed switch in tactics from organised bombings to lone-wolf style attacks will worry the security services who find tracking individuals much harder than uncovering pre-planned plots.
Sounds like an interesting plan. Just for arguments sake, let's say I agree with Mr Gadahn, how do I actually get my hands on some weapons so I too can become a matyr for the cause?
In a calm voice, California-native Gadahn tells Muslims it is easy to get weapons from gun shows and carry out random attacks.
He said: 'America is absolutely awash with easily obtainable firearms.
'You can go down to a gun show at the local convention centre and come away with a fully automatic assault rifle, without a background check, and most likely without having to show an identification card.'
Is that really true? Can I just walk into any gunshow, take out my note from Mr Gadahn that I must acquire weapons of mass intimidation and have it all charged to my debit card? Or should one pretend that they are acquiring weapons because as an American we should all be free to bear arms and of course use them when we deem our liberties and life in danger?
Now that I have access to weapons how do I actually go about the business of setting things straight?
'So it's just a matter of entrusting the matter to Allah and choosing the right place, the right time, and the right method.
'Target major institutions and public figures.
'Do Not Rely on Others, Take the Task Upon Yourself.
'What are you waiting for?'
But what if in your zeal to eliminate the enemy you get caught? What does Mr Gadahn, who now lives in hiding (of course) in Pakistan and is high on the FBI's most wanted list advise?
And for those fearful of getting caught, the Muslim convert offers reassuring words.
'Over these past few years, I've seen the release of many, many Mujahideen whom I had never even dreamed would regain their freedom.'
So as Mr Gadahn asserts: 'What are you waiting for?'
Shouldn't you be going through the back pages of your local directory and scouring for the next local gun show. After all pursuing terrorism an ideological war might just get you out of the doldrums.