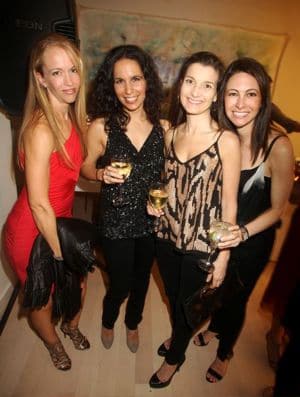 This past Saturday night saw a consortium of some of the city's mobile aspiring social classes (yes kids- it's a 24/7 sport) congregate at the Brian Farrell Art Gallery in appreciation of helping some dogs getting the requisite love and shelter that they need on behalf of Love 4 Animals.
With festivities certainly getting lively, don't ask me to explain in detail,there were a lot of numbers been switched around and of course a lot of air kissing- just the way we like it. Which is to say, everyone's heart was in the event, and giving some much needed funds to these pooches goes a long way.
Noted guests included: Jennifer Jablow, Lorenzo Borghese Lauren Grafer, Brant Fairbanks Stead, Katrina Szish, Monica Breiland, Samantha Dark, Delphine Lincy, Pamella Labella, Andy Frankenbergerm Chris Griffin, Jimmy Lee, Darren Jablow, Megan Corcoran, Karen Biehl, Lindsay Burka, Malik So Chic and Tia Walker.
The event took place in conjunction with Animal Care and Control.
Images continue next page.