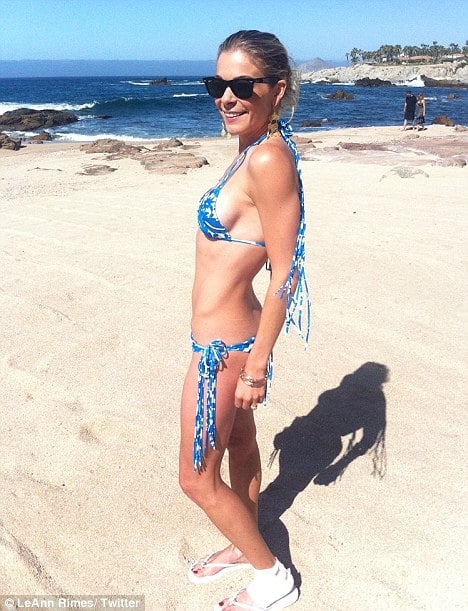 Using your honeymoon to control your public image…
dailymail.co.uk: Most newly-weds use their honeymoon to shut off from the world to focus on romance, but LeAnn Rimes just can't seem to switch off.
The country singer, 28,  invited the Twitter universe into her intimate getaway by posting bikini pictures on her page from Mexico.
But holiday picture – which shows the Grammy award winner on the beach in a blue and white two piece – quickly prompted concern among some of her thousands of her followers.
Concerns? What concerns? That there weren't enough paparazzi lurking in the background, that LeAnn's eight ball had gone missing in the surf, that the thing passing for personality looked deflated? Or did it have something to do with the fact that her highness' skimpy bikini kept falling off her flat ass?
A Glasgow-based fan wrote that the star, who married Eddie Cibrian earlier this month, looked 'scary skinny.'
Not our LeAnn. Dear lord look closely at that stick broom role playing as herspine- surely that's enough proof that LeAnn knows what a Big Mac looks like and on occasion tastes like.
But LeAnn jumped straight on the defence, right back: 'Those are called abs not bones love.'
She went on to say: 'Thx but this is my body and I can promise you I'm a healthy girl. I'm just lean. Thx for your concern but no need to be.'
What LeAnn was trying to modestly say is that on a good day when she's feeling extra perky and the eight ball hasn't upset her stomach too much is she's able to down two back to back petite sized french fries, a cherry thickshake and a cordon bleu stack of fried chicken followed by a high power session of 68 000 sit ups.
But life for our princess hasn't always been this good….
It's not the first time that the figure-conscious star has turned to Twitter to defend her body issues.
In April she took a photograph of her bare stomach and long legs while lounging around with Cibrian, with the caption, 'First sun!!!!! SPRING!!!'
In another posting she wrote, 'Dear lord! I do not work out too much nor do I starve myself. I'm so over this and moving on.'
One day when LeAnn gets over the idea of being a trophy wife and emaciated cover girl she will bravely reach out for a midnight french fry before violently sobbing that the world would have loved her more if only they truly understood her undying commitment to them.
Shouldn't you aspire to be a Hollywood princess too?