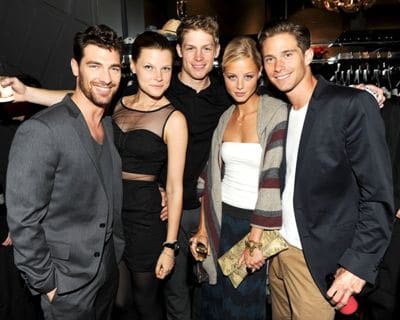 Wednesday night saw a gallant crowd of who's who in fashion, society and the arts. All there in honor of Hugo Boss' new store opening in conjunction with the Young Collectors Council of the Solomon R Guggenheim Museum.
A noted supporter of the arts, Hugo Boss, dug deep and made a generous donation to the Guggenheim Museum's acquisitions fund.
Guests included chanteuse and hipster staple- Chloe Sevigny who revealed to this author that she was in the midst of releasing her own line in the not too distant future- 'Perversion' (how apropo) and asked why she hadn't made theater a staple she nonchalantly replied- 'money.'
While Chloe's brother Paul, spun the decks and had the cool kids turning their best three quarter angles- I got a chance to mingle with Dj Sky Nellor (who we both realized were at the same New year's eve party in 2000- aka Sydney, Australia). From there it was a polite nod to Olivia Palermo (who surely has read all the taciturn things I have to say about her and her elk- consummate media whores, oh well…)- a quick shaking of the hands of apparent new Hollywood bad boy ( I wonder…) Alex Pettyfer and a cheerful laugh with Emma Snowdon Jones who is rather pleased that I am finally getting to spell her surname correctly.