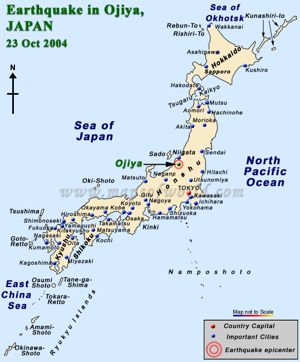 Have the lords forsaken Japan?
When it gets bad it goes to worse. Reports have just surfaced that Japan once again has been assaulted by another catastrophic earthquake. This one measuring 7.4 on the richter scale as opposed to 9.0 that hit in March.
npr: There's been a powerful earthquake off the North Central coast of Japan, near the same location of the 9.0-magnitude temblor on March 11 that set off a tsunami that pummeled cities along the coast, leaving thousands dead or missing.
That's the greatest magnitude of any quake in the area since that March 11 disaster.
And it gets worse:
The Japan Meteorological Agency has a issued tsunami warning — and says the wave's height could be about 2 meters — for part of the coast. A tsunami advisory has been issued for parts of the coast further from the epicenter. They should expect a wave about half a meter in height.
Once again despite our economic prowess and ingenuity we're forced to reconsider the fragility of our times and the senselessness that life has suddenly become- never mind in so many respect it has always been senseless, despite the colorful makeshift addendum's mankind is prone to create as he forges a vulnerable existence.
timeslive: Although the epicentre was at a distance of 333 kilometres (207 miles) from Tokyo, it caused buildings to shake in the Japanese capital.
"Please do not hesitate to leave for higher ground, nor try to return to the coast line. Please do not try to check the status of the coastline," broadcaster NHK said repeatedly.
Time will only tell the magnitude of this particular disaster, assuming if one can still define time or one's physical (literally) place in the world…