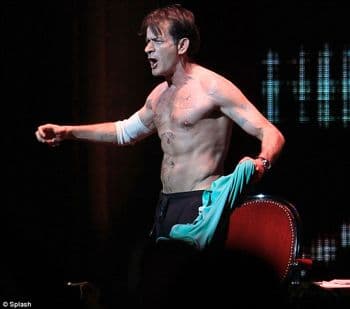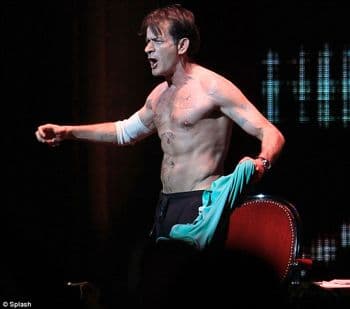 Duh- winning!
Kids, there may be a reason after all why sunshine melts when it licks Coco Sheen's forehead in the morning….
dailymail.co.uk: He was booed and heckled as he made his one-man show debut in Detroit.
But Charlie Sheen managed to get back on top last night as he received a standing ovation in Chicago.
The actor took to the stage with a revamped show that was completely different in every way to the opening night that saw him booed offstage in Detroit.
Kids do you have the feeling that somewhere in all of this Coco is going to be nominated for his own very private Academy award? This is too 'hawt' for even our taste buds. Even the chipmunks we like to keep in the basement were wondering how they were going to pawn off their Coco tickets after Coco bombed in Detroit- but not now- they haven't been able to stop foaming at the chops since word made it round that Coco took the bull by the helm and let America understand the type of man he really is….
And as well as relying on a completely new format – with a Q&A rather than solo rants – Sheen also pulled attention grabbing stunts to win over fans.
At one point he stripped off his shirt, swapping it with a man in the audience, before pulling his 'goddesses' onstage and kissing them.
His performance featured few video clips than his first show.
Kids do you have the uncanny feeling that CBS is watching this all in disbelief wondering how much money they are going to have to dip out of the piggy bank machine to bring their hero back to roost?
Sheen told stories about smoking weed with Chris Penn, according to celebrity website TMZ.
And he said he would consider returning to Two and a Half Men if he was offered the chance.
But he lashed out at the show makers, branding them 'blood suckers'
Blood suckers? Oh dear- one can only imagine what Chuck and CBS are spitting in the back of their mouth about their hero too…
At the end of the performance he received a standing ovation, according to audience members who tweeted from the event at the 3,600-seater venue, which reportedly sold out last night.
Because what originally goes down can only go up and up as long as the bedbugs patting Charlie's back get to hear the roar of a crowd waiting to be collectively brought to redemption.
FREAKSHOW OF THE WEEK: CONSPIRACY THEORIST ALEX JONES GOES ON 'THE VIEW' TO TALK CHARLIE SHEEN
CHARLIE SHEEN IS NOW SHOPPING BOOK DEAL.
CHARLIE SHEEN HAS DECIDED TO ONCE AGAIN BECOME AMERICA'S MODEST HERO BY SUBMITTING TO REHAB.
COCO SHEEN RUSHED TO HOSPITAL AFTER PARTYING.
COCO SHEEN IS NOT DEAD AFTER ALL.
COCO SHEEN IS NOW COUNTER SUING HIS HO CAPRI ANDERSON.
COCO SHEEN FOUND NUDE IN RESTAURANT, SCREAMING N-WORD.
Coco Sheen's ho Capri Anderson demands he pay his outstanding bill of $12 000.
Charlie Sheen trashes his Plaza suite during a coke binge with hooker.
THIS YEAR FOR XMAS COCO SHEEN GOT SANTA TO DELIVER SOME MORE BLOW.