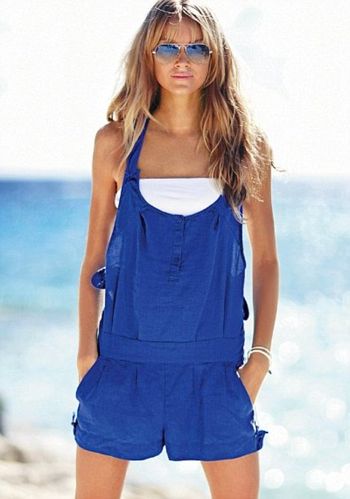 Why do the fashion houses insist on misrepresenting the truth?
No matter how many times we in the media point out the glaring photoshop miscues, and how that betrays the reality of the human body and by extension what is the preferred ideal-  fashion houses continue to give us adulterated depictions. Which begs the ultimate question- why persist with this misrepresentation?
dailymail.co.uk: It's not the first time Victoria's Secret has been caught out. But the lingerie company is the subject of ridicule yet again, after it appeared to have airbrushed out a large part of a model's thighs.
The beauty, who wore a bright blue linen beach romper, was pictured with almost unnaturally thin legs in a picture posted on the company's website. She had also been given a bizarre concave shape to her inner thighs.
Are we to believe that the fashion houses think we don't notice such manhandling of the human form? And what exactly are they achieving? Is the between the lines message- the thiner the better? Or you too can be this thin and thus by extension lovable? But who cares about so thin, especially ruthlessly thin to the point of parody? And are we to believe the fashion houses want us to look (or at least believe) we too can be the desired picture of desirable? And furthermore despite all the talk of healthy bodies and acceptance of all body sizes and masses the fashion houses keep honing on the idea that thinner is better? Are they simply giving us what they think we want or desire or conversely forcing us to try and unattainable goals of being ruthlessly thin because this is the desired status quo that a fashion label should aspire too?
Today fashion blogs slammed the company, comparing the photograph to one taken last year of Marisa Miller, whose arm was removed in the digital retouching process.
Styleite wrote: 'We're totally creeped out by the way this model's airbrushed thighs  don't appear to connect to the rest of her body. The lack of shadow where her leg meets the romper is also indicative of an awful cut-and-paste job.'
Time will see if the fashion houses change their direction and wise up, but then again the last time we looked the media was also doing a zesty job of trying to implore readers of too manicured celebrities – which makes us wonder- maybe the media ought to have a think about what it prints and what it idealizes, cause it good just be a situation of fashion houses taking our cue, never mind how often we like to shriek- 'that thigh is gross…'
Additional links: