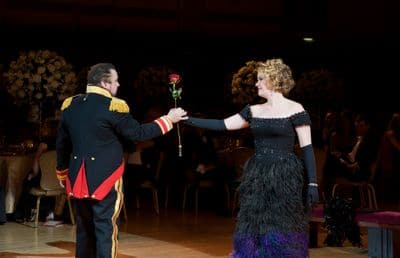 And what a gift! The grand ballroom is a three-story arena like something out of Cinderella. Dozens of dinner tables festooned with white roses framed a dance floor large enough to accommodate a horse and carriage. I can say this because early in the night's proceedings, anactual horse and carriage arrived to deliver ballerina Milla Schmidt to her partner, Gregor Hatala.  
The night was one for classics. Music by Jacques Offenbach, Franz Lehar, and Johann Strauss, Jr.  set the tone for a magnificent night of dancing. Renowned conductor, Maestro Julius Rudel, was asked what is favorite aspect of Austrian music.  "All the good music comes from Austria," he said with a smile. "Austria provides it all."  
Peter Duchin and his Orchestra provided the music that night, offering a splendid variety of themes that included a number of waltzes—a dance with special meaning to the children of Vienna.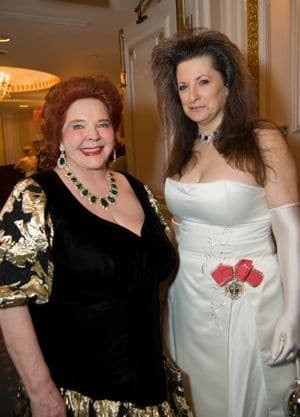 Before the 1800s, the waltz was thought too sexy to take part in formal events. (It was one of the first dances requiring partners to touch and spin together.)  Johann Strauss changed all that when he became the Imperial Court's Dance Music Director. Strauss composed over 150 waltzes. His son Johann wrote over 400.   
Tradition is of the utmost importance to the Viennese Opera Ball; as evidenced by the formal wear—not to mention the debutantes. Sixteen visions in white (led by sixteen dashing gents) took to the dance floor in a complex waltzing arrangement to open the night's proceedings and their society debut.