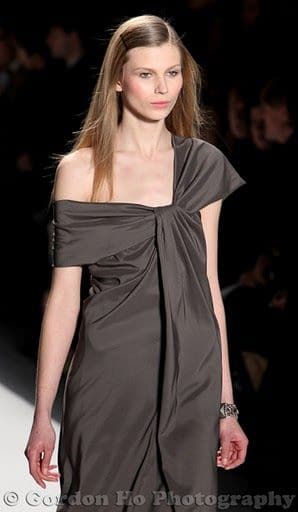 Tadashi Shoji has done it again- he's created a collection full of versatile gowns that are designed to flatter the full gamut of female body types. Tadashi drapes, gathers, and details fabric with such precision and élan that he is impossible to knock off. Eat your heart out, Forever 21. 
His presentation for Fall/Winter 2011's Mercedes-Benz Fashion week consisted of a few key categories of gowns. The prettiest but most conventional group gave us fitted, detailed bodices and flowing lower halves in bold colors like emerald, marigold, and fuchsia. Another group played with texture, but not color, by using rosette-like dots of fabric across neutral tones. Still others played fast and loose with both; shimmery, floor-length gowns were built out of tiny, paper-thin whisps of cloth. An early takeaway from this season is that highly-textured materials seem to be making a comeback. No wonder- fast fashion retailers can't reproduce this look as effortlessly as your average sack dress.
Tadashi Shoji is known for creating some of the prettiest, most sophisticated dresses out there. Though not yet a household name, Shoji has been a favorite of Hollywood stars for years. His last collection has already been seen on the likes of Mo'Nique,Glee's Amber Riley, and The Office's Mindy Kaling. Notice anything about these names? Here's a hint: Not one of these women fits the criteria of a conventional Hollywood beauty (by which I mean white, stick thin, and blonde). However, this hasn't stopped any of these women from being consistently lauded for their style acumen.