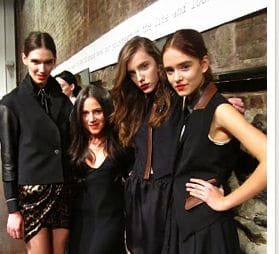 Kimberly Taylor premiered her fall 2011 line this past Wednesday night at Dop Dop salon, in Soho. Her second Mercedes Benz fashion week, since 2009—the NYU graduate, is best known for her silk basics. Only twenty-five years old, she has garnered a lot of respect for her efforts at making dress seem effortless.
"The collection was inspired by a trip I took to London, and I was so inspired so I went back again," said the designer. "I went there and I saw women that were wearing clothes that were effortless and more current than they were trendy. I tried to translate into a line. They really have a way of suiting up that I admire."
Leopard pattern layered wrap skirts, and brown or black leather patched tops—certainly evoked the eccentricity of exotic urban London wear. Thigh highs, heels, bowties and fish tailed braids were too—some other very captivating details, that complemented the shoulder navy dresses, short sleeved or my favorite—the long, red ball gown.
Impressed by the intricacy and work put into a simple button down—KimberlyTAYLOR mixes and matches silks with cotton- blues with whites and black—and red with black. Clean cut diagonals and layered or pleated skirts and dresses are for the cocktail party girl—while the blazers and pencil skirts, adorn the working career women.
Taylor seems fond of sheer, chiffon sleeves and neck ornamentation. The translucent sleeves provided remarkable contrasts to the skin and models' hair colors, while the leather belts and soft silky ribbons and cuffs stimulated the otherwise bland and somewhat ordinary color scheme.
"Retrospectively this line represents me the most: darker, navies and blacks. There's a generative mix of both the feminine and the masculine. Bowties on top, skirts on the bottom—I do believe in that balance. Even if you wear something trendy—there's always a way to tone it down, to make it look more effortless, with details." She said.