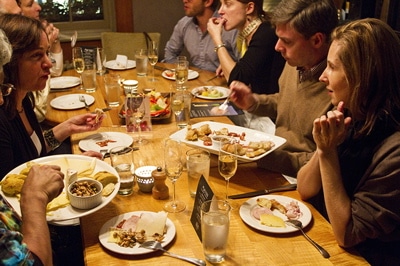 Time Out New York's infamous food and drink editor, Jordana Rothman, organized a hot Dining and Libation Society (D.L.S., see Dlssociety.com) dinner at Savoy, in Soho this recent Monday night. A four course "harvest" themed meal, equipped with Champagne Nicolas Feuillate and Stella Artois beverages, on the second floor of this 'New American' themed restaurant. A term referring to upscale, modern cuisine that combines traditional peasant dishes and luxury ingredients, Rothman welcomed the attendees, by first crediting the cook, Peter Hoffman. "This harvest dinner at Savoy, satisfied all of my restaurant fantasies," she declared, preparing to seat herself. She thanked Pierre, the other cook, and toasted everyone: "We cook from the seasons, we like to respond to what is out there right here and now."
First course, consisting of platters of mixed charcuterie, roasted autumn vegetables and farmstead cheeses, certainly evoked the recent transition into fall. The second course, consisting of Peconic Bay scallops, with "delicate" squash and preserved Meyer lemon salad, too evoked the tang and richness of local frigid waters. "Peconic bay", found between the south and north forks of Long Island, produces these most delectable adult scallops, whose flavors still lingered by the third course: Roasted pheasant with sautéed kale, polenta and forest mushrooms with smoked pheasant and heirloom beans. "They are adults [despite their small size], are going to die, so eat them!" Insisted our enthusiastic host.
This was my first time trying peasant, (a former vegetarian for over a decade), and I think it tasted like turkey. The polenta, most people's favorite, really captured the smoky airs and rustic forest flairs, characteristically autumn—November–Thanksgiving. The Tuscan kale, too—a lot of peoples' favorite, known for being highly concentrated in nutrients and minerals, was extremely flavorful thanks to the chili, vinegar and garlic spices added to it. Then, fourth course—the crème brulee, caramelized with irons pulled from the fireplace—left everyone with a lusty sparkle, a glimmer in their eyes. Cooked custard brought from the kitchen and burnt by the salamander instrument, in the public, roasted fireplace up top. The crème brulee, a product of a very interesting process, was sweetened when the salamander burns its top; it was made crispy and beautiful—like the entire evening, at Savoy.