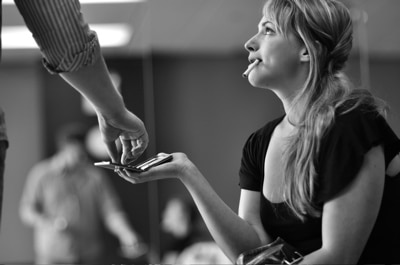 Let me be clear. I hated the movie of this script. I am using the word 'hate'. This should be in-no-way mistaken so that I can emphasize how much I loved Silent Street Production's version of Closer. The acting is fantastic, the direction is clear, the characters are, in a word, scintillating. It makes all the difference in the world.

Closer is the story of four London residents whom first meet when Alice is hit by a taxi. She quickly falls for Dan, who has no problem leapfrogging from one girl to the next. Their counterparts, Leah & Larry,  meet as the result of a vulgar prank of Dan's.

Cruelty is a running theme of Closer. Another is carelessness. Thirdly, the ongoing shift in leverage is nothing short of engrossing. The high ground changes ownership every other scene.

The characters are brought to three-dimensional life by an amazing quartet of actors. Amy Northup plays Alice, a stripper and consummate liar. Her transition from disarming waif to confident manipulator is enjoyable as it is engrossing. Her lover Dan is played by Robert Spence, who makes Dan's cruelty and carelessness the near-sum of his character. This is a wonderful choice on Spence's part.

Playing Anna is Leah Gabriel, who personifies the traditional English reserve. Leah's technique makes it clear that Anna throbs with emotion, but remains cautious and withdrawn. Every feeling of Anna's is painted on her face in small, light strokes. It's masterful.

Completing the cast is Giacomo Baessato, providing the eminently human, funny and relatable Larry. Giacomo's acting is nothing short of fantastic. His dynamic energy electrifies the show. (It must be said that the cast functions amazingly well as a team. There is genuine chemistry here, an element sorely lacking in the film.)