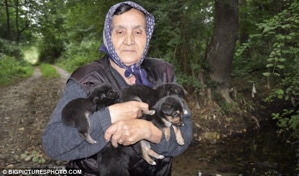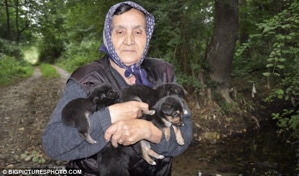 We have a new development today in the puppy throwing "story that shocked the world": a 75-year-old Bosnian grandmother (babushka and all) Ruza Pavlovic claims to have found all five of the puppies that had been hurled into a river to die in the notorious video that surfaced as a 4chan meme recently. But the question still remains as to whether things are exactly what they seem…

Daily Mail: The woman claims to have saved the dogs' lives after spotting them struggling to stay afloat at the side of the river as she made her way to a potato field.

However, although the woman posed proudly with the litter, it is not certain that they are the same dogs.

A careful look at stills from the original videoclip will show the puppies in question to be black with white underbellies; while the rescued puppies look slightly different – black with brown underbellies.
Still, what are the chances – if the old woman is telling the truth of course – that more than one litter of exactly five puppies could be "struggling to stay afloat" in a Bosnian river so soon after the posting of the infamous video? Could this, perhaps, be a new fad for teens in Bosnia, throwing puppies into rivers by the litter?
Despite the woman's heartfelt face and endearing demeanor, if there would be a motive behind a possible lie here, it appears to be monetary in nature.
Yesterday she said: 'They are healthy and happy. My problem is that they need at least three litres of milk a day and I live only on my small pension, but I do not have the heart to abandon them.'
Though a number of high-profile rewards have been posted for information leading to the mysterious girl's capture – most curiously notably action-film director Michael Bay's $50,000 bounty offer – relatively few (if any) have been offered for the puppies' rescue. Did the internet leave them for dead, or did we simply not care about their safe return once we had a specifically feminine object to unleash our collective hate upon?
It remains unseen whether the woman could be hoping for the internet masses to respond with support for the saved puppies with the same enthusiasm that sent them out on a global witch-hunt to begin with; as well as whether our capacity for online and anonymous altruism is as intense as it is for sadism, much less whether it could be as enjoyable. Perhaps, as this story makes (or fails to make) the usual rounds, we'll find out soon enough.