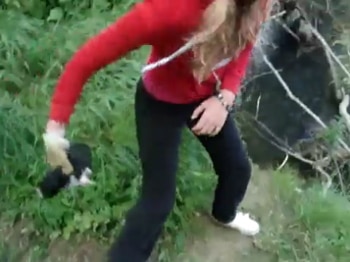 It shouldn't be at all surprising that the usually perverted internet masses have been busy little vigilantes today after viewing a video of a mysterious young woman giggling while throwing helpless puppies into a river to drown.
Gawker reports that: On Monday afternoon, this video was posted to a thread on /b/—the unruly, lawless "Random" board on the popular imageboard site 4chan—along with a characteristically sweet message: "Find this dumb little bitch and throw her into a river."
While unquestionably heinous (a mundane value judgment the media has been all too quick bash us over the head with) is it really all that shocking? At least any more than the typical scatological child porn and brutality that /b/ wallows in daily (at least, that is, when the mods aren't watching) .
Huffington Post: The video, believed to have been filmed in either Bosnia or Croatia, though no one knows for sure, shows a girl in a hooded sweatshirt lifting whimpering dogs out of a bucket and recklessly tossing them into the rapids.
Estimated to be in her late teens or early twenties, the identity of the girl in the video remains a mystery. A Facebook group called "Find the Girl Who Threw Puppies in River" already has over 2,300 followers.
Still, there's one question, albeit a difficult one, everyone seems to be shying away from: just why has there been such an extreme response to this video in such a short timeframe?
Could not our outrage be really that a woman (we all know they don't exist on the internet, unless they show their tits to prove it) is publicly deriving pleasure from practicing the exact same kind of sadism the predominantly male masses of /b/ do daily, and save for their own masculine enjoyment?
Is not, I mean to say, our outrage really that our little red riding hood is being unladylike?
Gawker, for its part, both hits on what should be the major question here just as quickly as it elides it, writing on the tenor of the debate: "This place used to be the darkest pit of the internet… now this place is full of justicefags all over." The future of /b/: Aggressive nihilism versus wrathful lynch mobbing. What a choice!
But, some of us may wonder, does the option really matter when both poles — in either extreme — result in exactly the same thing? Until our objects for collective flagellation start showing moar tits, of course, like all 'good' media whores.
Source; knowyourmeme
Be warned, the photo montage below is disturbing. The you tube video has since been removed.