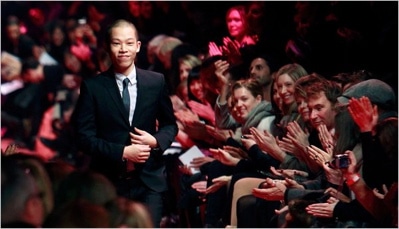 This week's upcoming Meredes Benz Fashion Week S/S 2011 represents an ascent of a new class.
According to a recent observation made by Eric Wilson in a the New York Times article—Asian Americans like Jason Wu, Richard Chai and Alexander Wang have been dominating the fashion world. In particular, they have made up 70% of international students at F.I.T, the Fashion Institute of Technology, in New York—that's 30% of the total school's population, and recently won a plethora of awards at the American fashion awards ceremony, at Lincoln Center this past June.
The winners of the fashion awards evening, were all male Asian Americans: Jason Wu, Taiwanese designer known for dressing Michelle Obama for the presidential inauguration—Richard Chai, for menswear and Alexander Wang for accessories.
The 'Oscars' to the fashion world, it was the first time all three $25,000 scholarships were given to Asian Americans. The article goes on to explain that the indiscernible differences among Japanese styles, Yohji Yamamoto, Rei Kawakubo and Issey Miyake– have done nothing more than create 'opportunities in Asia'.
Due to what Wilson notes is an 'influx of Asian-American and Asian born students since the 1990's,' a changing of outlooks toward careers in fashion and an increase in the economics of the industries, overall. Vera Wang, Anna Sui marked a smaller wave of Asians entering fashion in the 1980's, and in 1995 there were only 10 Asian- American members of the Council of Fashion Designers of America, while today we see 35 or more.
Wilson quotes Joanne Arbuckle in his article: "F.I.T. is a pretty diverse place, but this is the most obvious change we have seen…it is remarkable when you compare it to many years ago."

Which begs the question which group will come out next to dominate the Fashion market, now that the Asian American contingent is taking a firm lead…