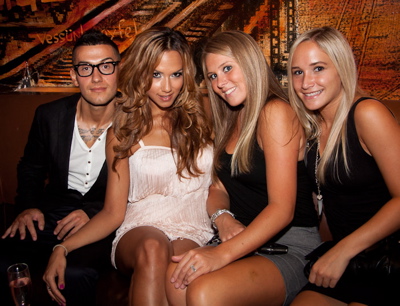 Then there was the impressively young Arlene of Leather & Lace, who got her first record label at 19. Going solo as "Arlene" after four albums, for freestyle radio stations, Arlene explains that she does her things 'evangelistically'. "We are here to cover events, all in our own way," she notes. Urging us to keep up to date with her new video "Band of Gold," Arlene was most articulate, open and honest fairy princess, whose dreams came true so early on.

Beautiful Jessica Fabus sang and danced with two professional dancers: Andrea Palesh and Anjuli Bhattacharyya, from "Eyes of a Blue Dog" dance company. Remarkably synchronized and energetic, Fabus hopes to continue performing with the two talented backup artistes, who will be performing at Jacob's Pillow Festival, in Becket Massachusetts next week.
The Onez, consisting of two men and two lady performers, was a favorite as well. Sexy, smooth as Sade and cool, Carmen–the seductive, wild-haired Latina lead singer, had audience gawking, drooling for more. Jayquan, a Spanish duo free styled at the end; reminiscent of the Latino/a classics, like Richie Valens or Selena, the woman echoed, supplemented and dramatized the man's lead.

Following the night's performances, at BLVD, was the raffle drawing. Prizes included free massages, personal training sessions, and gym membership at New York Health and Racquet Club, as well as a dinner-cruise for two and a gift basket filled with assorted high-end hair products. DJ Solo spun the wicked after party, in the backroom.