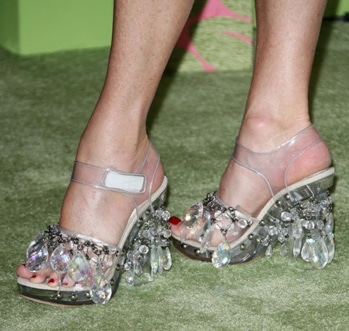 Rita Wilson last night had every foot fetish aficionado in America nervously rubbing themselves by the bathroom sink once Rita rolled out on the red carpet with her hunk Tom Hanks at Hollywood's Emmy's Awards bash.
Part tribute to Liberace, every skank west of the famous Vancouver strip mall and aspiring high school diva Rita's lucite flip flops had the kids salivating so hard that their own saliva was later used as silver cushioning by Rita as she floated past the paparazzi who were by this stage cutting pieces off their wedding band to stick to Rita's heels.
Opulence has a new name. It's called Rita Wilson. Sticky bathroom walls also have a new name, coincidentally also called Rita Wilson.
Source: D listed.