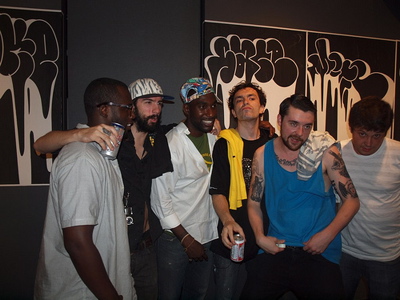 This past week saw seminal artists Mint and Serf, (an idiosyncratic ensemble to say the least) display their newest collection of work- 'Special Graffiti Unit,' to a sell out attendance at the Lyons Wier Gallery on West 20th st (which last time we checked was backing up to the sidewalk and north of 21st).
In commemoration to the long running TV show 'Law and Order,' the ensemble outfit as curated by Derrick Harden uses the show as a type of metaphorical and physical springboard into themes of law and order as personally experienced by the artists. With the use of video, painting, sculpture attendees were certainly provoked and definitely amused as the ensemble unit chose to deftly and humorously explore their (TV) themes. In one ensemble we are presented with no other than the 'special graffiti unit,' a sartorial take on police affairs we imagine. Or the lack of…
Apart from the rampant paparazzi, tall skinny girls, their tattoos and the skinny weird looking guys with their own unique tattoos one felt that they had never left Brooklyn and were still firmly within its gritty/ironic parameters. Apart from the oppressive heat rising off the tarmac it was a splendid evening. Kudos to the group!

Gallery Hours: Monday – Saturday 11-7, Sunday 12-6 Exhibit until Aug 15.
Gallery Located: 175 Seventh Avenue on the NE corner of 20th and 7th Ave.
Nearest Subway: C, E exit 23rd @ 8th Ave., 1, 9 exit 23rd @ 7th Ave.
Contact: Michael Lyons Wier, Gallery@LyonsWierGallery.com