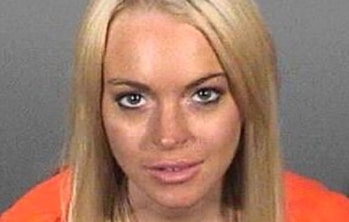 Crime actually does pay.

The chipmunks in Lilo's closet are all clapping with joy today with the revelation that super trash rag OK MaG has offered our collective hero Lindsay Lohan $1million to sit down and describe her time behind bars. Which reminds us of a favorite Orwellian saying- 'People are equal, except some people are more equal than others.' But then again, Lilo isn't your regular run of the mill folk, she's a deity for all the confused starving children of America looking for a size 2 spiritual guide with white straws hanging out of her hip pocket. But then again, who doesn't love a reformed celebrity nihilist…?
Huffington Post: Lindsay Lohan has been offered $1 million for her first post-jail interview by OK! magazine, sources tell the Hollywood Reporter. She is also set to collect a slew of appearance fees and paychecks for stories of her time inside. The first interview could come sooner than expected as Lindsay is set for an early release from rehab, possibly later this week. She left jail and entered rehab on August 2 and was supposed to stay for 90 days.
Who has time to serve out their sentence and finish rehab when there's a thick wad of money waiting to collect on the way to the john? Mama and Papa Lohan must be jumping up and down in their tracksuits and have probably postponed their job interviews with the Ronald McDonald grill and flip division.

Aren't you glad that your favorite media whore really learned her lessons? Let's see if she makes going back and forth from prison cells a new career move…
Lindsay Lohan would like to tell you as of this morning she's free- sort of.
Lilo has hysterical fit while locked up.
The Lindsay Lohan mugshot T-shirt is finally here.
Lilo is finally on her way to jail.
Lilo checks herself into Rehab.