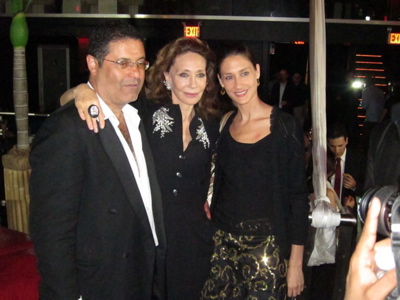 Yesterday, one the world's leading fashion photographers of the last twenty-five years, Michel Haddi, otherwise known as the "King of celebrity snappers" was celebrated at New York-based Amnesia along with the Kingdom of Morocco and Macys.
In attendance were some influential people in fashion, film, television, sports, publishing and business including fashion icon Marissa Berenson.
There was also a silent auction held in honor of the King of Morocco's sister, Princesse Lalla Hasna, to which Michel Haddi's photograph "A Flower," print number 1/1 was to be made available. The proceeds from this auction will be given to the Mohammed VI Foundation for the Protection of the Environment.
Haddi has shot celebrities such as James Brown, David Bowie, Liza Minnelli, Angelina Jolie, Johnny Depp and Jennifer Lopez. In Morocco, Haddi has worked for publications such as Vogue Magazine and Arena Magazine, and brought Paul Bowles (author of The Sheltering Sky) and Film Director Tim Burton there on various projects – a shining example of his commitment to Morocco, its culture and people. Just this year, before shooting the Vanity Fair collection during fashion week in Milan, Haddi shot the world-wide Macys campaign in Marrakesh.
Sponsors of the event include the Moroccan National Tourist Office, Philippe Achard, The Zen Group, Royal Air Maroc, Macys, Bacardi, Moroccan Prestige, Hope Productions, Moshe Malamud, & Eli's Salon.