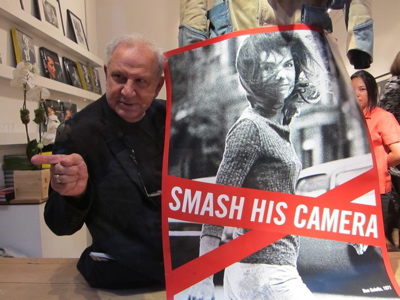 Ron Galella, arguably the biggest celebrity photographer ever, signed copies of his book "Smash his Camera: The Notorious photographs of Ron Galella" at Clic Gallery, (424 Broome Street).
He called himself
"the bandit of images," and captured unposed and candid photographs that have become some of the most recognizable and iconic images of 20th Century American culture.
His photographs are now in he permanent collection of the The Museum of Modern Art in New York, the Tate Modern in London, and the Helmut Newton Foundation Gallery in Berlin.
The exhibit at Clic Gallery presents the most famous shots of his archives, and represents a rare opportunity to see actual prints of such images.
Ron Galella also signed copies of his other books VIVA L'ITALIA, NO PICTURES!, MICHAEL JACKSON: THE MAN IN THE MIRROR, WARHOL BY GALELLA and many others.