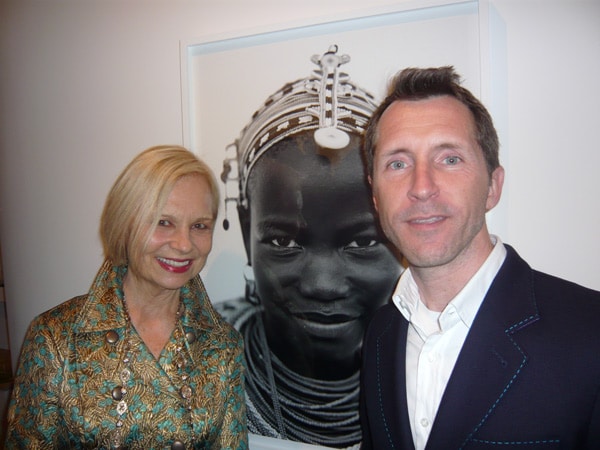 Here's the question on my mind. Does art sell better when it's surrounded by lots of beautiful people, correct cheek bones, foreign accents and an endless supply of hors' deaves and jalapeno tequila cocktails. The answer it seems is yes, well almost yes…
It's a Thursday night and the flotsam set have descended en large to the new gallery of choice of Clic Gallery to witness either the new work of very talented Lyle Owerko or as one may openly wonder each other. There amongst the indigenous proud African tribes people parading the walls stood another particular tribe- equally languid, glorious and quite possibly more effused with their appearances and drinking habits.
One could of course could find great consternation to such situations, but if one spends an inordinate amount of time on the circuit they come to realize that in effect this is the preferred behavior of a certain sect of society. That said I stood there already resigned to the fact that any observation of the work in front of me would have to be done either via the books placed on the table in front of me or later at home on the web.
I of course chose neither, instead choosing to ingratiate myself on the grazing habits of the immediate tribe in front of me.
It was funny being in a room full of Italians, French and Africans, of course when I say Africans I am strictly referring to the various Africans hanging on the wall in various noble tribal repose. In a peculiar way it had amounted to the re introduction of colonialism, with the Europeans swilling and grinning while their African counterparts stood there statically bound to the walls. Of course when I say bound, I mean bound for a pretty penny too…
Behind me stood a couple of English gentry discussing not the merits of the art (how dare I assume such a thing!) but rather the fastidiousness of some new hotel one of them had recently discovered in Le Marais, the lively quarter of Paris.
'Well yes I stayed at the Oriental Lacont…" (or something that sounded to that effect)
"I see, and how was it?"

"Well the windows were a bit a small, and all they did was speak French (imagine only speaking French in a French speaking country?!)

"But why didn't you stay on Rive Gauche?' (intoned the other…)

I must have paused for a moment, a trifle embarrassed for the artist that his delightful brand of work had now come to serve as a new kind of wall paper as if in some trendy hotel lobby, albeit an English speaking hotel lobby.
From there I ran into Moran Bar-Kochva, collector extraordinaire and we somehow got into the topic of how they break knee caps over there in Georgia (the former USSR state) if for one reason or another one is late on payments. Of course I was not particularly engaged to wonder if Moran was late on any payments, for the thought of my good friend having to get around the jet set scene on crutches suddenly become unpalatable.
From there we were greeted by an assortment of savories (and I don't just mean the food) that kept coming one after the other in our direction. There was nothing much to say, acknowledge the wonderful pictures on the wall (if not fleetingly) and then get onto the more pressing tribal matters at hand- where would the after party be, was there an after party and if such and such over there was loaded?(Yes, very, but what did we care, he was obviously here to buy the art …at least I wondered).