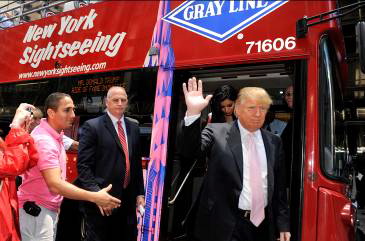 A ride on the wild side.
Just in case you didn't know but yesterday Donald Trump got to be the face of Gray Line NY– which on the surface doesn't sound like a big deal – but really is a big deal when you realize before Donald became a tycoon and professional model dater he wanted to be a bus driver. Or so we like to believe here around the office.
Celebrating his wonderful achievements and all the great things that Donald gets to do all year round were dignitaries and the new Miss America- Miss Rima Fakih who must have feinted when she got to sit next to Donald as they rode around town all proud like, but not before she got to help the Donald cut the ribbon in front of the Trump Tower on Columbus Circle.

But seriously, what other charismatic man and enabler of this city's passage than Mr Donald Trump, who will always bring a (cheeky)smile to our faces and we're guessing yours.
Let's hope next time our reporter manages to figure out the train time table over there in Connecticut…that way he can actually get to stand next to Rima(instead of lamenting it) and ask her some clever questions as opposed to having his editor (that being me) having to remember something funny that the Donald once whispered in his ear and then deciding it would be a bit too cheeky (if you catch our drift…) to print it here.

Kudo's to Gray Line for recognizing the Donald and we look forward to seeing who else they recognize this summer. Until then we will be gazing deeply into Donald's eyes as he pulls out round the corner, plump on the front of the bus.
Here's more info on Gray's bus:


Since 1926, Gray Line New York has been a proud staple of the New York City tourism industry, bringing visitors to all the must-see stops in New York City on its signature red double-decker tour buses. Now with its "Ride of Fame" campaign, Gray Line New York is recognizing and honoring leading New Yorkers, whom they identify as exemplary community figures by bestowing a bus in their fleet to each dedicatee.