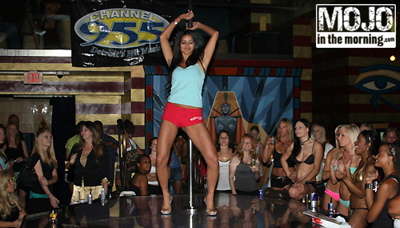 Over the weekend, Rima Fikih was crowned Miss USA, but in light of the recent news that's been coming in- she might as well as have been crowned Ms Pole Grinder of USA. Of course that hasn't stopped TV trash bag Donald Trump from continuing to champion the pageant because he learned a long time if you can create garbage and profit from it, why put your check book away. Which is another way of saying as long as Donald's girls are gorgeous, a little soft scandal should never get in the way.


Apparently back in 2007, Rima Fikih, was a participant and winner of
radio DJ Mojo
in the Morning's
"Stripper 101"
– pump and grind the pole contest. As we can all see from the delicious pics Rikih is willing to do anything for a little cash and her 15 seconds of cold, hard fame. Something she never got round to explaining to the judging panel at the pageant, but then again, such virtues are implicitly understood when you get to gyrate your size 2 butt on national TV.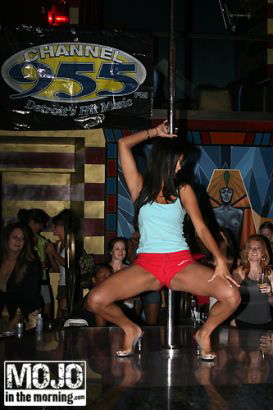 To complicate matters, Rima's photos had already been posted on the radio website for three years, but it wasn't until recently that the reps of the Miss Universe pageant got round to looking at them. In fact they contacted
Mojo in the Morning
requesting even more photos and wanting to get the 411 on Fikih's involvement with the "Stripper 101" contest. But anyone with half a brain cell can see that's just a cynical exercise in placating our wounded sensibilities- because if truth be known, hot trash is the new currency.
Of course you may be proud to know that DJ Mojo character is a true professional and possible friend to Rima because he has refused to send the pageant the photos they requested. He did in fact ask the reps if her position as Miss America would be revoked, but no comment was made. The morning show host said about the photos,
"It would be foolish to anyone other than Rima to represent the USA. The photos taken from our website are no more provocative than those on the Miss USA website."

It would also be foolish to take the crown away from Rima because everyone knows that all those contestants were skanks in the past or still are.
Good job Donald Trump, you sure know how to pick em.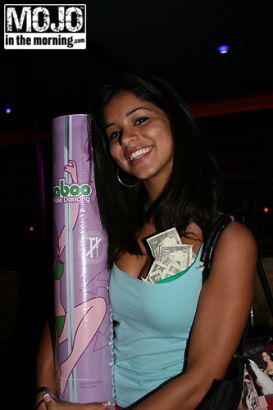 Source: Mojo in the morning.