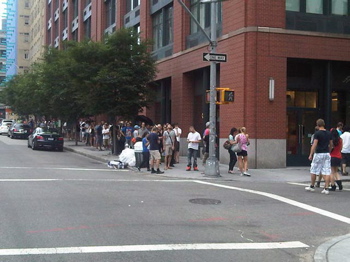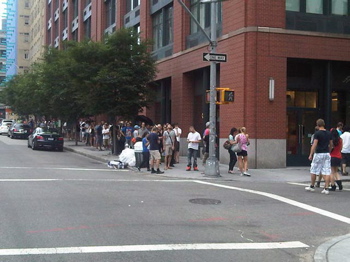 The insanity for the latest I- phone has begun…
Why people endure certain inhumanities will never quite make sense to us, but tell that to the people who are waiting some 4 hours deep in the 92 degree humid weather to get a hold of the latest gadget from Apple.
Gizmodo: I got to the line at the NYC Soho Apple Store at about 6:40 this morning, 20 minutes before they opened the doors. I knew I'd be far back, but I figured it would move relatively quickly. I was wrong!
I ended up spending about 5 hours in that blasted line in 95 degree heat, nearly passing out if it weren't for the free SmartWater and gelato the Apple Store Employees were handing out.
As you can imagine from the comforts of our air conditioned room with 3 tubs of Ben and Jerry's Cookie Dough Ice Cream Gizmodo's author is obviously deranged and clinically missing something in the brain. But then again, why despair when you can buy a 3 rd version of the newest IO phone in your life. That way you can answer the phone one millionth of a second faster than you ever did before and of course show off in front of all your friends…
There were actually two lines, side-by-side: a line for people with reservations, and a line for people without 'em. The reservations line moved significantly faster than the non-reservations line, but both moved slooooowly. In the "faster" line, we were on a 20 minutes of standing still, moving forward 10 feet, repeat, pace.
Prey and what was happening in those lines? Where there numbers being exchanged, the occasional death threat made to the random tech head that dared push in front of the line, or where people standing there pleased there were other patrons, idiots like them willing to make the same sacrifice on behalf of Steve Job's bank manager?
But really, my 6:40am-12pm experience was nothing compared to those poor bastards who thought it would be a good idea to show up without a reservation. The guy in the parallel line next to me when I went in had been there since 3am. Yes, he spent 9 hours in line. Woe be to the people who got there at the same time as me, who, by my arithmetic, will get their phones in October.
By my arithmetic Steve Jobs will be making his 15th gazillion by 3pm tomorrow afternoon…
But really, nothing erases the bad memories of many sweaty hours on a NYC sidewalk like a fun new toy, right?
In fact by my opinion nothing beats the feeling of calling one of my friends on my later version I-phone while sucking on my Ben and Jerries and laughing at all the dummies wasting away in that line…