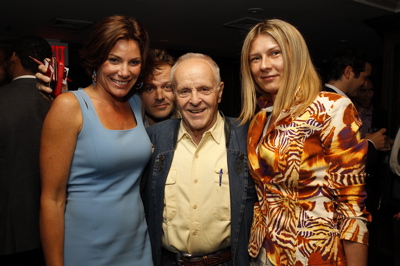 This past Thursday, philanthropist, art lover, charmer and Anthony Hopkins lookalike Henry Buhl threw a fund-raising To Do at RDV in the meatpacking district.  Guests were the ascending 20-30something crowd: affluent enough to be able to make a healthy contribution and social-minded enough to care.
The party benefited ACE: The Association of Community Employment programs for the homeless.  It is Buhl's brainchild, and has been supporting the unfortunates of Soho for the past eighteen years.  So the story goes, in 1992, Buhl met a homeless man in his doorway.  The man asked Buhl for twenty dollars.  Rather than help the man out once with a handout, he decided to instead build a foundation to give the man a hand up.

ACE is a well-designed advancement program to help the homeless get off the streets, earn a living, and support themselves.  In Project Comeback, the first level of a two-tier program, the enrollees are given NY State IDs to help their employability, and taught in the appropriate work-related classes.   Project Stay introduces financial workshops, helping them learn some fiscal responsibility.  Jobs are found for them, at which point they 'graduate'.    Perhaps best of all, ACE will be there as a safety net for the rest of these people's lives.  Should they relapse, should they fall, ACE will be there to catch them.

Buhl has surrounded himself with the right people. Melissa Robinson, event coordinator, played a role in selecting RDV and inviting some 500-600 guests to Thursday night's bash.

By 9 o'clock, the place was packed.  RDV, a cozy underground hideaway on west 13th ST, features turn of the century furniture and hardwood floors. Hardworking waiters kept a rotating selection of appetizers coming, and DJs provided the sound.  The open bar helped lubricate the festivities, and why not?  It's for an excellent cause.

A charity raffle was also held, featuring donations from the Soho community—including an Apple iTouch, a custom-tailored suit from Astor & Black, fashion accessories by Mary Ching, and a gift basket of posh men's toiletries by John Allan.

People came for a variety of reasons.  For some, it was the free liquor. For others, it was an opportunity to meet new people and network.  For most, however, it was a genuine desire to give back to the community.    Said Adam Raffa, an insurance broker, "I went to a [Project Stay] graduation and it really opened my eyes. That's why I'm here, and that's why I support them."

Attorney Bill Radin said, "Anytime there's an opportunity like this, it's a great chance to network.  Plus, I really support the cause." Radin (and many others) heard about the festivities through CharityHappenings.org.

Buhl has more activities planned in the near future.  The next one will be this coming Wednesday night at Trump Soho, from 8 to 10 pm.    Next month on the 17th, Henry will be celebrating his 80th birthday in style.

"We work to keep them working," said Buhl of his charges. "That's our job."