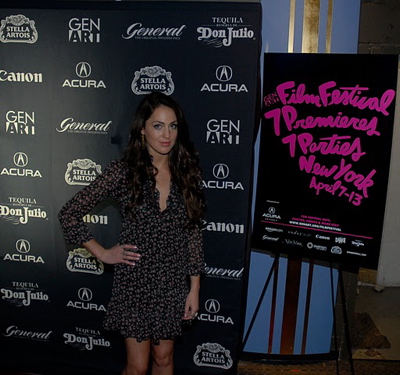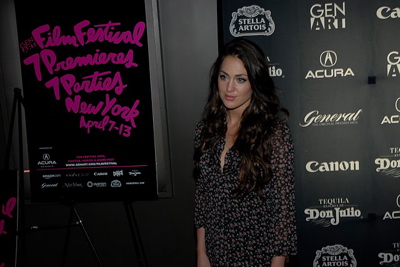 The always wonderful Rachel Bilson plays Emma Twist alongside newcomer Tom Sturridge in the romantic comedy "Waiting for Forever".   At the premiere last night, during the second evening of the Gen Art Film Festival, Sturridge proclaimed he landed the lead role of Will by chance, "I was sleeping on a friends couch and was bored so I picked up this script he had, read through it and loved it.  I contacted the director James Keach and auditioned for him".  Doesn't get much simpler than that, unfortunately Hollywood doesn't typically work that way.
With the majority of the audience being women, "Waiting for Forever" was a crowd pleaser with tissues and sniffles to accompany. Rachel Bilson arrived for the premiere of the indie rom-com in a gorgeous Preen dress with an exposed neon green bra, a trend to be set for the masses. When asked about her upcoming wedding to Hayden Christensen she responded to questions of plans with an "Oh gosh! I haven't done anything yet, no planning, no planning at all". A sought after young fashionista she claims she keeps her thin figure by "Not caring what I eat! I love to eat, I love food; Mexican, pasta, anything Italian and cheesy." Rachel was honored to be at the festival, which is one of New York's hardest to get in to, "Gen Art is unique since there's only one short and one feature a day, I'm happy to be a part of it". Rachel quickly split after being asked about the reality show the group of rich LA delinquents who broke into her home was gifted, "I don't want to talk about it".

Also in attendance was producer (and wife of the director) Jane Seymour.  She spoke quickly of her run on Dancing With the Stars, claiming she was able to 'wow' audiences because "I was an ice skater, grace was gifted to me through that sport." Seymour had no comment when asked about Kate Gosslin's unfortunate two left feet this season.
Director James Keach provided a film that was delightful in an innocent way, he noted "The biggest challenge of the film was to not make it sentimental." Far away from anything notable, the storyline ran at mediocre and predictable speed.  Writer Steve Adams failed to focus on important scenes during the aftermath of a murder, showing little reaction from  Emma Twist.  Another challenge Keach stated was casting the roll of Will.  Before the above mentioned fairytale of boy-finds-script they auditioned over one-hundred potentials.  The lucky to have Sturridge did a wonderful job in the role (minus his less than stellar juggling skills), he is one to watch in the future. Although a bit quirky, when Sturridge was questioned how he succeeded in producing so many tears he exclaimed "When I'm upset or sad I take a walk down the street looking for puddles, once I find a puddle I stick my face in it.  So I suppose I think of that".  Veteran actors Richard Jenkins and Blythe Danner, also in attendance, were also lovely.
The after party, hosted by Don Julio and Stella Artois, was located in the swank and discrete meatpacking district lounge SL. Jell-O ceilings and x-ray wallpaper made it for an interesting scenic event despite the pesky gawkers who pleaded Bilsons arrival which never came.