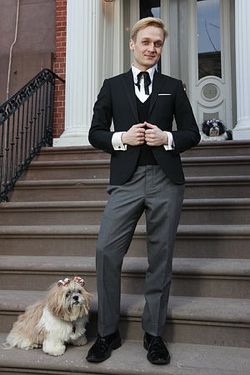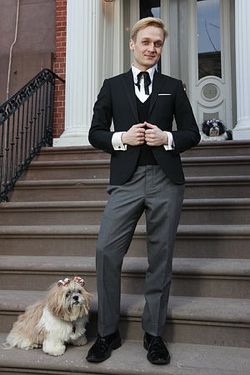 Ivo Juhani has finally arrived in society…
Courtesy of Graydon Carter, Vanity Fair's editor in chief and the de facto ruler of everything south of Anna Wintour's nostrils and west 23rd st, mere mortals will now (for a set premium of course) be able to have access to the hospices that Graydon has casually taken for granted since the day the sun announced that it would eternally shine on him. Of course what comes with this splendor is Graydon's personal toy boy. Reports the NY Post (Gutter):
Celebrities renting an apartment in a converted Chelsea mansion will get a unique amenity — Graydon Carter's butler. Ivo Juhani, 33, is a modern-day Jeeves who serves as the Vanity Fair editor's part-time manservant and as head waiter at his West Village celebrity mecca, the Waverly Inn. Now he will also wait on the five tenants at 436 W. 20th St., including Courtney Love and Olivier Sarkozy, the half-brother of French President Nicolas Sarkozy.
Does this by extension mean that Ivo has now become a celebrity toy boy or even better a kind of demi god? Furthermore does this suggest being a servant is no longer to be something most actors and artists in New York City should no longer feel deeply embarrassed of? And most importantly will Ivo make it on the cover of Vanity Fair anytime soon? Continues the report:
His daily duties: delivering mail, lighting fireplaces, stocking fresh flowers and booking private cars. He will also stock fridges, book reservations at the city's most exclusive clubs and don a tux to work private cocktail parties.
Could one also add that Ivo's extra curricular activities also include being stud, therapist, drug courier, confidant, and part time walker in the social circuit? After all a position like this can only come around so often…
In any event, we look forward to many wonderful reports, rumors, mental break downs, he said, she said, he screwed, she screwed and the eventual reality show that this side of Graydon Carter's sunny paradise is sure to breed. We applaud you Ivo, congratulations for your arrival to society!