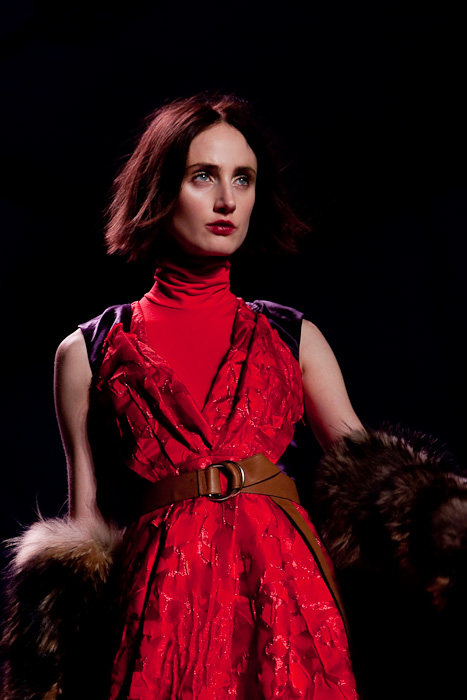 It may have taken until Day 6 of Mercedes Benz Fashion Week, but finally someone has presented a vision for Fall 2010 that is both wholly original and stunningly beautiful. That someone is Thuy.
For those in the know, Thuy has quietly been making some of the most stylish and luxurious clothes around. Though this line can hardly be called a secret – it has been featured in every major fashion magazine, many more than once – Thuy still feels like a line that is flying under the radar. In spite of not being a household name, or perhaps because of it, designer Thuy Diep has once again proven to have a keen eye for trends.
One major achievement in the looks presented at Bryant Park was what we'll call the "sting ray dress." There were two such dresses in this collection that featured wide strips of loose fabric that ran from each shoulder down to the bottom hem of the dress. These not-really-sleeves, which flared out in  front of the models's arms as they walked, gave an illusion similar to that of a large, circular sting ray gliding across the ocean floor. There were two such covetable dresses in this set, one of which was made from a floral print that could have been taken straight from a classic Diane von Furstenberg collection.