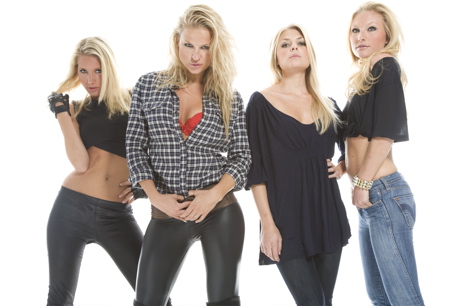 Louise Tomassino, Miranda Hortlund, Isabelle Filling and Valerie Wigardt are the four Swedish "Euro-Class" babes who make up Swedish pop band "Ladylike".  Based in Stockholm (soon relocating to New York City – of course) these sultry & sexy Scandinavians are making waves in South East Asia, Europe and most recently the Caribbean.  Formed back in 2007 by Miranda Hortlund (while attending the Cannes Film Festival) she met three men who were also brothers from Kuala Lampur, that own and operate an entertainment/production company called KRU (ironically these three brothers had once been in an all boys band) and quickly had the idea of forming an all female vocal group.  Soon after, the idea of Ladylike was born.  Miranda quickly put her heels on and went back to Sweden where she recruited an already famous singer, Isabelle Filling and two other model/vocalists Valerie Wigardt and Louise Tomassino.
They picked up speed in South East Asia while their single "Dreaming Of The Time" hit number one in Indonesia.  Fan mail and phone calls were coming in and soon they began making the band's presence known on talk shows, radio and other public appearances from Kuala Lampur to Stockholm.  Ladylike's success has become apparent so much so that they performed this New Year's Eve after Beyoncé on the isle of Saint-Barth at Nikki Beach.  They quickly caught the eye of Paul Allen (co-founder of Microsoft with Bill Gates-need I say more?) and were immediately requested to perform on his mega boat, Octopus, where they met such celebrities as Usher, Jon Bon Jovi and Orlando Bloom.
After coordinating with Valerie Wigardt and Louise Tomassino, I was able to join Ladylike this past weekend during a photo shoot (courtesy of Red Hot-PR) scheduled in New York with famed fashion photographer Mani Zarrin.  In walked four of the most fashionably ladies I have seen all season.  I asked each of them independently who their favorite designer is or the one their wardrobes just can't live without.  Responses; Valerie can't seem to shake Marc Jacobs, it's part of her soul and she is in a relationship with the brand. Isabelle is in love with D Squared and anything else feels like she is cheating (not that she ever has, figure of speech).  Louise is serious about Dolce & Gabanna to the point of it's a religion for her.  Finally, the founder of the band is in true European form being monogamous to Roberto Cavalli.