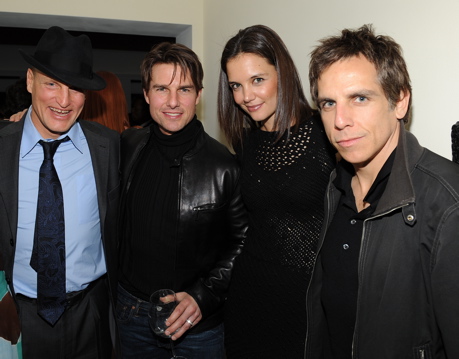 The scene opens:  On a crystal-clear Los Angeles night, a vagabond stands clutching a glass of Dom Pérignon on the penthouse terrace at the Château Marmont.  Laughter wafts through the air, hanging over the sparkling city below.  The vagabond glances skyward, seeing no stars through the heavy smog she resolves to watch the ones mingling at the party.
Some people say perfect moments only occur in the movies.  These people must have never attended the Golden Globe Awards cocktail party hosted by NY Times Style Magazine and organized by Peggy Siegal Public Relations.  Then again, the dream-like atmosphere was likely due to the fact that the people in attendance are the very creators of those "magical movie moments."
Gerald Marzorati, Stefano Tonchi, Andres Balazs, and Lynn Hirschberg, the main hosts of the night from NY Times Style Magazine, welcomed their guests with open arms.  The evening was an intimate one, with an eclectic mix of artists, actors, musicians, directors, designers and producers, all celebrities in their chosen profession. Tom Cruise and Katie Holmes, Jane Fonda, Tom Ford, Elizabeth Banks, Laura Bickford, Ben Foster, Troy Garity, Lindsay Lohan, Molly Sims, Ben Stiller, Oliver Stone, Wolfgang  Puck, and Rachel Leigh Cook were among those who donned the diamonds or black ties and made their appearances.
From engaging in an intellectual dissection of Quentin Tarantino's greatest films, with the man himself, to shamelessly flirting with Chace Crawford (and learning that he makes his own coffee) to laughing at Topher Grace's sarcastic jokes and swapping fashion tips with Ashley Olsen, amusement was abundant.
Although for this vagabond, the greatest entertainment materialized from the inevitable awkward, and often comedic, exchanges that are present in any human interaction.