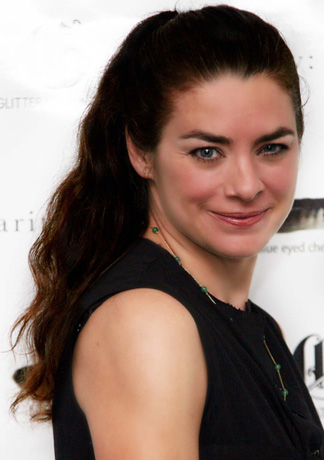 I'm sitting down with award winning film director and actress Jordan Bayne and she is deliberating which wine to choose from the menu list here at Café Orlin in the East Village. She suddenly turns to me and tells me almost conspiratorially that she is a 'snob.' Without blinking I wonder if that portends beyond just the wine. She stops to consider and replies that at the end of the day she is an aesthete who is always discriminating and is always looking how to bring the best out of any situation, especially her art, her film and the students she occasionally teaches whom she holds to an incredibly high standard. It is at this moment that I am seduced and begin to take on the exceptionally interesting journey of an auteur on the go.
SCV: When did you first arrive to NY?
JB: I remember the date exactly September 5 1994. Straight from Tennessee.
SCV: What brought you here?
JB: I wanted to become an actress. I wanted to explore the idea that 'God is in the details.'
SCV: What does that mean?
JB: That beauty is everywhere in every art form you choose to devour yourself. I wanted to connect to the whole world, to see what I could make of myself.
SCV: And what did you make of yourself?
JB: I'm still exploring that. Essentially I want to be this vessel that explores beauty, pathos, intimacy, the darker side and the things that we are all so afraid to own up to.
SCV: So what happened to your acting career?
JB: I got to star in various films which brought me some acclaim. I was nominated for the indie film- 'Under Hellgate Bridge,' starred across Ernie Hudson in "A stranger in the Kitchen,' and Martin Sheen in the "Mercy of the Sea," appeared in "Law and Order" and found myself in my first theater performance with James Gandolfini and Marisa Tomei in the Naked Angel's production of "Summer Winds." But in the end that wasn't enough. I wanted to write and direct as well.
SCV: What is your point of view with respect to current culture?
JB: It's severely ADD (attention deficit disorder ) prone. It's so often about quick fixes, fame and glitter. It's very surface really, very few find the courage to go deeper, to be vulnerable and as a culture it's ironic that we shy away from these things as opposed to embrace and explore them.
SCV: Tell me about your first film Argo.
JB: It's funny when I first casted for the film I got 500 people to turn up. Do you know how many of those 500 I called back? Zero.
SCV: Why?