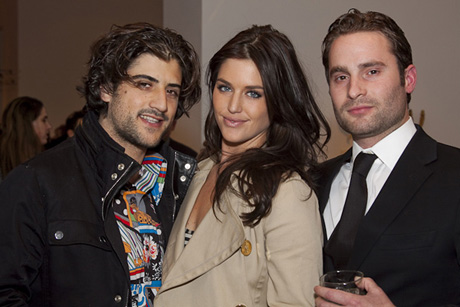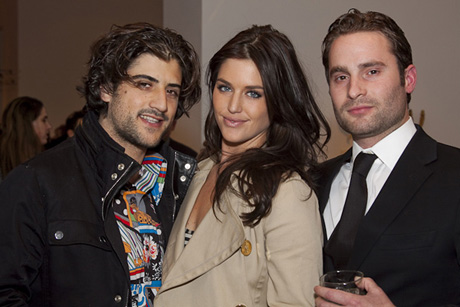 In certain realms of society, high profile estate disputes are equivalent to a day at the races.  Bets are placed, money is both won and lost and men emerge victorious at the expense of others. Perhaps, if the aforementioned sod had known how to better manage his estate, or had the foresight to appropriately plan for the future, especially as regards succession planning, a nasty day at the cleaners may have been avoided. Enter Herb Nass, considered by many to be the chief authority on wills, estates and trusts.  He is also the go-to man for news outlets such as Entertainment Tonight, whose unbridled coverage of celebrity divorce, death and associated scandal require his professional interpretation and distillation of judicial language and court proceedings. It is no wonder that the release of his newest book "101 Biggest Estate Planning Mistakes," was held at Christie's Auction House, the final resting place of many disputed assets primed for liquidation.
This evening, Marc B. Porter, President of Christie's and personal friend of Nass held court over the proceedings while guests sipped on sponsor AKVINTA vodka.  There is something about Christie's that always calls me to pause, to hold my breath as I find my way, or become pleasantly lost, in the House's hallowed halls.  Kevin Alexander, this evenings social conductor, had ensured that the guest list featured not only those of aesthetic value (enter Miss Universe) but also those individuals guaranteed to provide conversation well-suited to the venue.
I stood at the table for a moment, chatting with Nass' Editor at Wiley publications, hardly noticing the man who had taken the place beside me.  He was accompanied by a stunning blonde, dressed in black, and was making a humorous show of searching for his name among the author's extensive list of dedications. "These aren't in alphabetical order!" he laughingly exclaimed, looking upwards at the Editor.  I noticed him, if not immediately, then within a few prolonged seconds.  Former New York Governor Elliot Spitzer and his wife were in attendance.  I reluctantly turned to face him, wondering what I would say. "Mr. Spitzer, I wouldn't be doing my job if I didn't ask you a question." He eyed me with gracious mistrust; "Who do you write for, just so I know?"  "Don't worry, I only want to ask you a question about Herb (emphasis on the "H" to prove that I knew how to pronounce the name correctly).  "What do you think of him?" Spitzer replied with arresting good humour: "I knew him at Horace Mann.  He has wanted to be in this line of business since 7th grade.  He is the kind of guy you want representing you." He smiled and turned away.  Though I had heard this sort of description all night, I was proud to have gotten it from Spitzer himself.
"101 Biggest Estate Planning Mistakes" offers readers a witty and concise examination of some the most prevalent estate planning mistakes related to high-profile cases. Neither Anna Nicole Smith nor the Princes of Wales are free from Nass' fascinating sort of scrutiny, and though the book may present itself as an everyman's guide to estate planning, I think that the content could benefit readers from all social, cultural and intellectual demographics.  As a media-centric society, we are bombarded with celebrity scandal on a daily basis. Our opinions of public figures and their alleged misconduct are inevitably formed alongside and parallel to those of our favorite newscaster, reporter or network (I hate Glenn Beck).
As the media continues to spiral beyond control of reason of controlled culpability, it is difficult to tell the villain from the saint, or the endearingly faithful woman scorned from the opportunistic hanger-on. Nass explores a different sort of celebrity, one that is based upon fact and tangible public record.  His clients include established artists and collectors.  I asked him what he had learned of human nature over the 20 years that he had been in practice; the response?
"People sometimes just don't get along."
Fortunately for me I got on rather well with Herb Nass…
More photos on page 2 and in the Scallywag Photo Gallery!