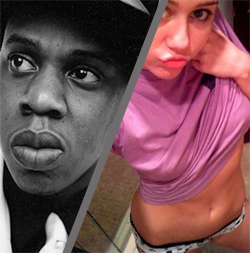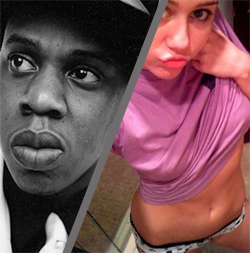 In dire need of genre clarification.

Miley Cyrus was recently interviewed where she admitted that she never heard a Jay-Z song before in her life, despite the lyrics in her "Party in the USA" track that claim she bopped her head to his songs. In her defense she says, "I don't know, I didn't write the song, so I have no idea. Honestly, I picked that song because I needed something to go with my clothing line. I didn't write it and … I didn't expect it to be popular, originally. It was just something that I wanted to do, and I needed some songs and it turned out for the best."
Continuing on she says, "I've never heard a Jay-Z song. I don't listen to pop music.  'Party in the U.S.A.' is not even my style of music." Can somebody notify her that Jay-Z isn't a pop star, and that she in fact, is a POP STAR? She goes further when asked if she would ever cover her dad's (Billy Ray Cyrus) 1992 hit, "Achy Breaky Heart," by saying, "No, no thank you. That's like covering a Jay-Z song. That's not going to happen." Did she really put her father, who is a country singer, in the same category as Jay-Z, a cocaine-dealer-turned-rapper?
I understand that she is still young, but I believe she is at the age where she has to comprehend that her music is pop. She is a pop star, with pop songs, that is on the pop charts. Her music is not rock, hip-hop, alternative rock, or country. Until the day we see her young tween fans head banging their heads in tune with guitar riffs and Cyrus screeching out every word of her song, she will be a pop star. Thankfully, she has a great PR agent who taught her to be grateful as she also stated, "I'm really blessed for it to have done as well as it has. Totally blessed. God has definitely put me in an amazing position with amazing people." Let us hope that God speaks to her and gently whispers in her ear, "YOU ARE A POP STAR. FOR THE LOVE OF GOD, ACCEPT IT."
More on the Cyrus Family
This Just In: Teenage Girl Raps Terribly.
9 year old Noah Cyrus shocks civilization by turning up as a dominatrix.