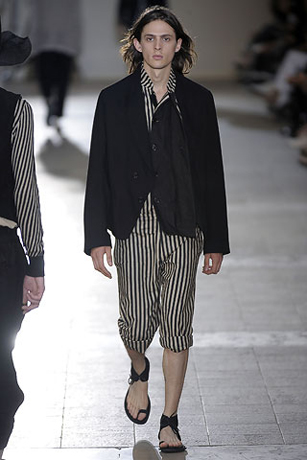 SCV: What's the biggest gig you've booked?
Randy: I just booked H &M, that's coming out in November. I shot with top 5 female models of the whole world. Anna J, Sasha Pivoparova, Edita V.  It was so surreal. And now I am waiting on a few things which I'd rather not speak about until they materialize.
SCV: So do you have screaming girls coming up to you on the streets?
Randy: Yeah sometimes, but I'm rarely going out. I'm always working on something.
SCV: I'm curious, what's the perception of all those girls that one so often sees going out on the town?
Randy: Honest, that's a bad look. It's essentially advertising you're a non working model. You have to realize the clients doing the booking go out and if they keep seeing you out they put 2 and 2 together and realize no one is hiring you- which kind of limits your chances of gettng hired by them.
SCV: What's your perception of modelling?
Randy: It's a wonderful way to open corridors. You get to do things and see things that so many people only just ever dream about. (pauses) To tell you the truth I really love all the amazing people I've been able to meet.
SCV: So what happens now?
Randy: Well I'm still modelling and it's not something I am going to be giving up tomorrow but I've kind of put it in the background for the time being. I am now involved with Collective Hardware (a collective compelled to create art, fashion, movies, art and productions in house and currently on the cultural vanguard). I'm their first assistant director on feature films.
SCV: Sounds wonderful. What are you currently working on?
Randy: We just started shooting a film with Dan Fogler in house called 'Don Peyote.'
SCV: Are you going to be starring in it too?
Randy: Yeah, I'm in a few scenes. I think it's wonderful cause I get to exercise my love of film, creation in front and behind the camera- it's the perfect marriage.
SCV: So ultimately how would you describe yourself?
Randy: 'Hard to contain,' but probably for all the right reasons.
SCV: American icon or visionary?
Randy: Am I allowed to say both?
SCV: We should think so. Thank you for your time.
Randy: Yeah me too…
Reflections of a former Male Model.