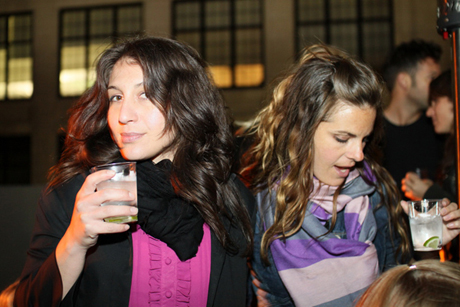 Does a party need a reason? Gen Art seems to think so. Partnering with Creative Edge and venue Skylight West, Wednesday night was ostensibly a "Celebration of NYC Nightlife and Entertainment Through the Arts." Wondering what that means? Me too. But it didn't really matter, because sometimes it's ok for a party to just be a party.
Hidden among a whole lot of nothing, Skylight West is a gem of an event venue with a 7,500 square foot rooftop and an equal sized bare party room below. If the point of the event was to show off this impressive space, job well done. The view from the Hudson-adjacent roof was impressive, and two separate D.J. areas made the tradeoff between performers instantaneous. The problem with this theory- it was cold. As the temperature drops off there are sure to be fewer groups interested in a windy rooftop.
Despite the cold, early evening partygoers were willing to brave the wind (and the open bar) to enjoy DJs Eclectic Method's a. v. club sensibilities. As much as I enjoyed the musical film mashup, I was even more excited to see Brooklyn favorites Finger on the Pulse follow. Composed of identical twin hipsters Greg and Darin Bresnitz, the duo often seemed to be everywhere at once this summer. From big sponsored parties like June's Dos Equis seven floor bash (so wild it got shut down in two hours) to a smallish pig roast at Gowanus hotspot BKLN Yard, these guys are always popping up when I'm least expecting it.