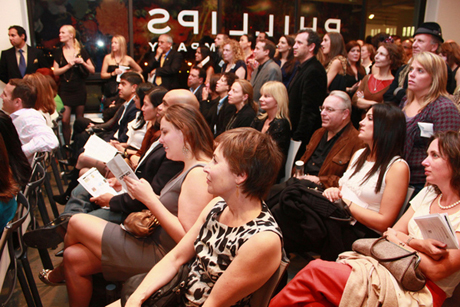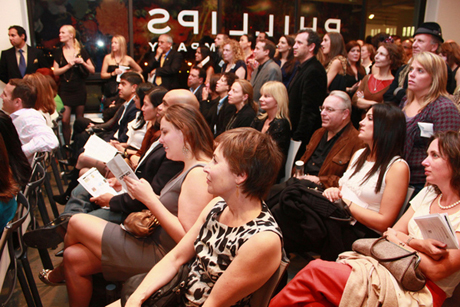 From the standpoint of a spectator, the experience of a live auction usually falls under one of two extremes: extreme boredom or extreme excitement. The Children's Museum of Art's 5th Annual Art Auction definitely fell under the latter. The benefit event, held at the Phillips de Pury space in Chelsea, was three hours packed with entertainment that varied from childlike to very adult.
VIP guests got a head start with a special preview of the diverse pieces and a chance to speak with many of the artists. The evening's collection, curated by Aileen Agopian, consisted of photographs, paintings and mixed media. While much of the art made reference to children's themes (like ABCs and bright colors), others had themes and references that were distinctly for the adults in the room such as Antoine Verglas's Aurora I. Guests were also invited to share their thoughts on what makes an artist by writing their thoughts on a large yellow Post-it ®. These were then collectively displayed as part of wall art for the evening.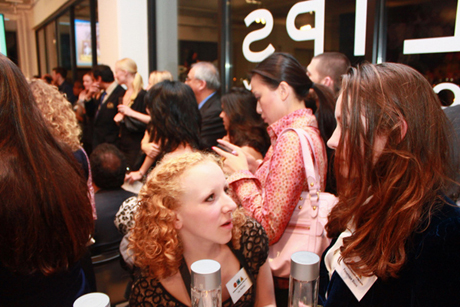 he preview was followed by a cocktail reception for all guests – including many kids. For these younger attendees, CMA provided one area for arts and crafts and one for games. While most of the kids took part in recreating The Starry Night using small pieces of colored paper and glue, many adults also took part in playing hopscotch and swinging on the freestanding seesaw.  During this time, supporters also got a glance at some of the artwork created by the children who participate in the various outreach programs provided by CMA. While some guests participated in the silent auction placed on a few of the items, everyone enjoyed snacking on the delicious goodies provided by Despaña, Diner, Perilla, Ammos, La Esquina, and MARKT (to name a few).