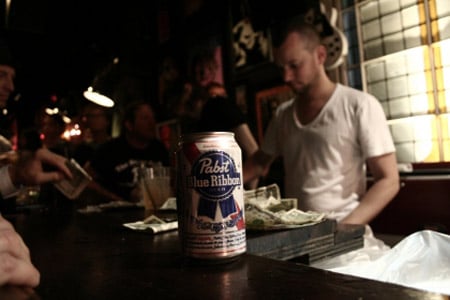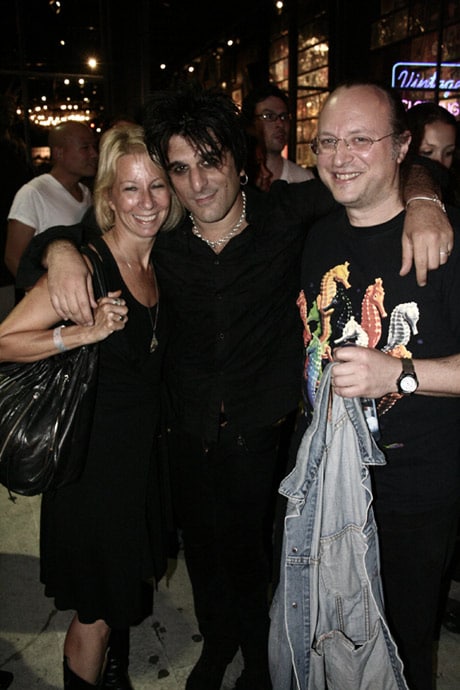 There's nothing cooler than free whiskey and an indy rock concert in the east village New York City. John Varvatos plays host to Steve Conte and the Crazy Truth, as Conte announced that this would be their last performance as an independent band and their next debut will be under Universal Records. It couldn't be more fitting of an occasion than to rock out in a place such as the old CBGB's which is now home to a John Varvatos store set in the lower east side of Manhattan. Basil Hayden and cans of Pabst Blue Ribbons were responsible for the buzz and in interesting mix of "Stooges and Stones meets morphine and waltz" played to a sing-a-long crowd of long time family friends, and local hipsters.
They rocked the stage which usually displays some of the coolest shoes in the John Varvatos collection, a couple of Les Paul's a Gibson guitar, and an original Slingerland drum kit made for the one and only Marky Ramone. It was truly an epic night of good music, great people, stiff drinks and a vibe all due to a sound best described as "garage rock and punky blues with hints of Latin-soul played in a dark smokey lounge. The John Varvatos store at 315 Bowery is a 3,300 square foot space was turned over to John Varvatos virtually empty, and the choice was made to leave what remained essentially intact. The footprint of the storefront is relatively unchanged. The new awning echoes the shape known to the original club goers.
Inside, the walls remain untouched and are still inscribed with graffiti and plastered with the original concert posters, stickers and band fliers. The vibe is also familiar, with a black ceiling and a typical theatrical lighting creating a dark, moody environment as your greeted by Lady Liberty herself when you enter. The essence of cool ingrained in the walls, and the energy of the band really made for a once in a lifetime experience. Congrats to Steve Conte & the Crazy Truth, I look forward to your next performance, and lots of success.