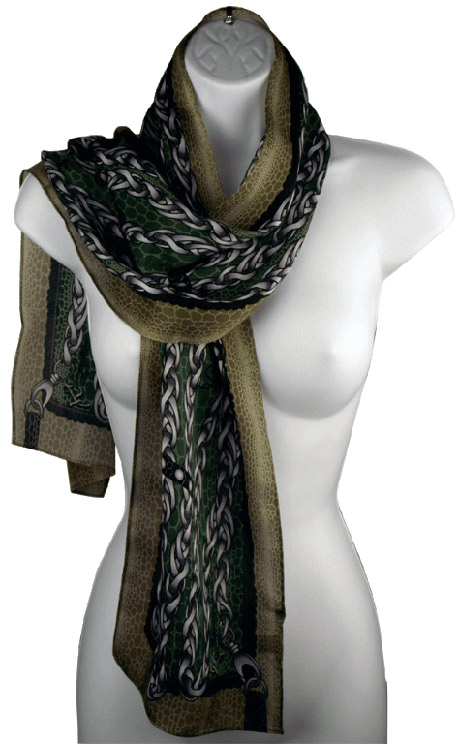 After honing her craft by designing for top retailers such as Gap, Guess, and J-Lo, Sabina Les has launched a line of printed silk scarves that have already received an extraordinary amount of attention, including placement on the Today Show. Ms. Les recently sat down with us to talk about fashion, inspiration, and why she doesn't design for hipsters.
SCV: Can you tell us a little bit about yourself and how you got started in fashion?
SL: Well, I always loved fashion. I actually have a degree in marketing and economics, but I always gravitated towards fashion…. I started out in graphic design, designing for magazines and record companies. Then I started moving into fashion more and more, and I started designing graphics for fashion, and then fashion. So I have a background in branding, fashion design, and graphic design.
SCV: You have designed for a wide variety of companies, and I imagine you've designed a lot more than just scarves for them, correct?
SL: Absolutely. Actually, scarves are the only thing that I never designed for anyone else. [Laughs]
I love scarves, I always wore scarves and I always wanted to start my own brand. I started at one point, then I stopped, and then I got busy with work doing stuff for other people, then I got laid off (which was a blessing in disguise in a way) and then I was thinking- what should I design that's mine? Where I don't feel like I'm still designing for someone else? And then I thought – Wow, scarves, I've never done scarves for anyone and I always wore them.
SCV: How long have you been working on your scarf line?
SL: Just over half a year.
SCV: Do you have plans to expand outside of scarves?
SL: Absolutely. I'm going to present my second collection in about four months. I'm going to add on to the women's scarves, and I get a lot of requests to do men's accessories. Men's ties, men's pocket squares. Actually, men love the scarves so they ask me for them…. Then we'll expand into bags, and then we'll see. I want to build a lifestyle brand.