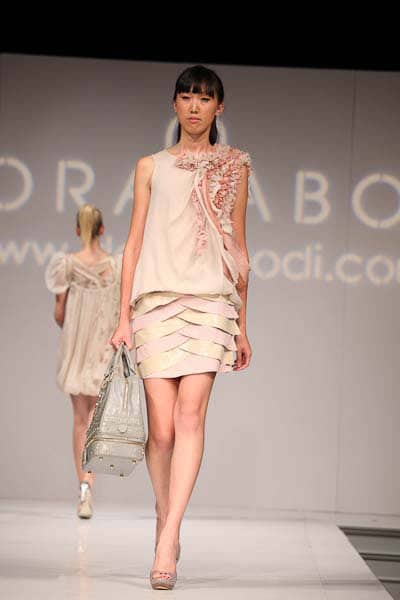 The columns of the Bohemian National Home are immediately discernable on the avenue.  The polished façade juts into the street with an elegant assertiveness; it is a constant reminder of the Upper East Side's rich Czech heritage and this evening the exterior was doubly ornamented—New York fashion aficionados milled about the entryway, Blackberry's plastered to rouged cheeks and none too dulcet conversations erupting from glossy lips.   
Sonia (Scallywag's publicist)  and I entered the fray, unsure of what to expect, where to go, or for that matter, what day it was—Fashion Week is just that, a week rather than an assortment of days and our schedule is necessarily dictated runway to runway.  Nolcha was the name of our evening, though the long list of presenting designers ran much longer than two syllables. We hesitantly entered the elevator that was to convey us to the show; it was already groaning with twittering party goers and I feared that one more pair of stilettos would be too much for the tiny box to bear.   We arrived on the 4th floor safely and made our way to the bar.  This evening, the roster was packed with emerging American and International designers, rendering two 30 minute shows necessary to showcase every collection.  First we needed a drink, then to the runway we go!  
As the lights dimmed, all gazed toward s the runways in anticipation. Swimwear, evening wear, and what appeared to be space wear took their turns on stage, some pieces distinguishing themselves above others.  
Sodalicious' self-labeled "haute couture floral fantasy line" was just that—a product of fantastical imagination with a vigorous nod to Spring florals.  Beaded gowns in various states of hydrangea blue, peony pink and lilac purple floated down the runway, and the entire look did intimate a couture element; they were certainly unique. 
Elda de la Rosa's Latin inspired line featured floor length couture gowns in solid colors, with heavy black embellishments adorning full, romantically styled skirts.  
Rock Hard Atelier's collection was the exact opposite; pieces featured a minimal color palette with a focus on playing with, rather than blindly conforming to, the female form.  Rock Hard prides itself on an avant-garde look, styled for the amorphous and multi-functional New Yorker, whose day often fades too quickly into night without respite or release—these pieces were designed for the woman without the time for wardrobe change but with an eye for personal style and a desire for the unconventional.   
Nostalgia for the past, anticipation of the future and impulsivity of the moment were all featured themes at Nolcha, and each designer aptly conveyed personality through their collection.  New York is a city rife with stylistic interpretation, and it was a relief to travel beyond the tents in search of something new and fresh.  All left with fashionable food for thought and a general wonderment at a city so rife with creativity and unique perspective.
Go to Scallywag's Photo Gallery.