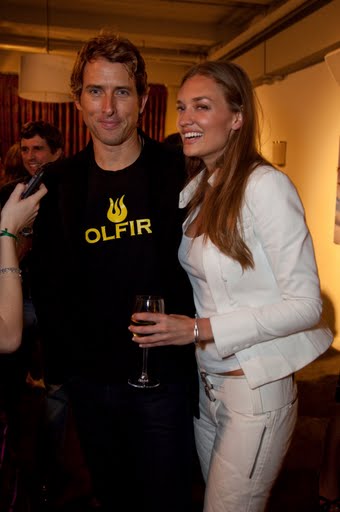 When one walks into Amber Arbucci and Brendan Murphy's exhibit, one instantly feels empowered by their creations.  With nude models covered in body paint in the African wilderness, Amber Arbucci's photos flirt with danger, emboldened femininity and exuded sensuality.  In stark contrast across the room, with bright colors and bold patterns, Brendan Murphy's paintings showcased the inner turmoil that male-female romantic relationships often cause. His paintings incorporate the female form with mathematical formulas and analytical phrases, creating a sensation of the male brain attempting to analyze the female psyche.
Looming tall over her guests, Amber Arbucci greets each one of them with a gracious and gorgeous smile.  It seems to make perfect sense that such a beautiful woman has created such fantastically feminine pieces.
S&V: What inspired the collection we're seeing today?
Amber: Typically I'm a wildlife photographer, I'm in Africa a lot, I swim with great white sharks, humpback whales, this one in particular was female form, I took some models into Africa, had an artist from New York paint all over their bodies, it was their return to nature, embracing their femininity and releasing the goddesses within themselves. The power that they exude comes from being that subtle girl inside.
S&V:  What inspires your themes?
Amber:  I think in life, women go against the grain a lot.  This was going with the lines of nature instead of against them, I think that's more than being some sort of activist that promotes otherwise.
S&V:  How would you define a real woman?
Amber: A woman who embraces her femininity.
S&V:  What was your favorite place that you've traveled to for your photography?
Amber:  Africa will always have a place in my heart, but Cambodia was really spiritual for me, I really enjoyed that.  Vision wise, the most beautiful site was Zimbabwe.  Each experience is so different, its hard to compare.
S&V:  What do you enjoy the most about your photography?
Amber:  The passion and inspiration I feel in these places.  I can really get within myself in a natural atmosphere.  For some reason the city doesn't really inspire me like Africa.
S&V: Did you study photography?