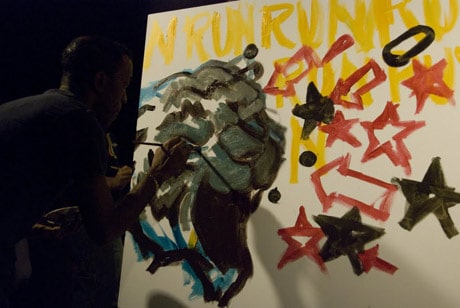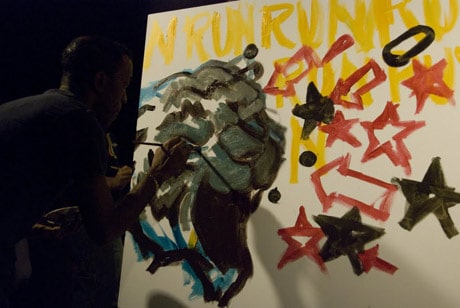 Sake is nothing new for the bartenders at Matsuri. In fact, the restaurant boasts of the largest selection of sake in New York, which is overseen of by the city's sole sake sommelier. The restaurant's reputation among sake lovers coupled with the space – a sleek yet warm semi-secluded lounge area decorated with paper lanterns and overlooking the main dining room – yields it as the perfect place to host a sake tasting. TY KU certainly took advantage of this fact Thursday night to showcase its super premium junmai ginjo sake. Those in attendance couldn't get enough of the smooth, light-bodied wine and were hovering around the bar. Certainly a satisfying sight for co-founder Trent Ulicny who, along with his business partner and fellow Columbia alum Kirk Spahn, created the brand in order to popularize sake and soju among American drinkers.
The sake is a newer addition to a brand that is most often recognized by the green, light-up bottle of its soju-based liqueur. The liqueur, which is naturally sweetened with Asian super-fruits, is also the company's most versatile product since it can be easily blended with mixers and other hard alcohol. At the tasting, I had a chance to sip one of their simple 100 calorie cocktails. A TY KU liqueur and soda was a nice balance, cooling my tongue in between bites of superb spicy sesame burdock.
While TY KU doesn't believe in traditional advertising, it is slowly building a steady following – which includes rappers Snoop Dog and Ne-Yo. With visibility through celebrity endorsements along with the eye-catching and award winning design of the bottle, the Trent and Kirk hope to build the brand's success up to the level of Patron. The liquors are not yet a standard on the bar shelf, but is available in several bars, clubs and restaurants around the city – including Matsuri.
After a few more sakes and TY KU cocktails, I decided to sample a bit more of Chef Tadashi Ono's menu. The plum-shiso roll I had was far superior to others I've tried. Though it still had a familiar tang, the sour quality was much less pungent and the flavors more subtly masterful. The buttery and tender assorted mushrooms baked in a paper bag were also great company to the sake. While the mini-meal was a wonderful happy hour accompaniment, a return visit to Matsuri for dinner is definitely in my future.
Go to Scallywag's Photo Gallery.